New Police and Crime Bill could end up 'barely recognisible' after Lords defeat
Legal experts believe the Police, Crime, Sentencing and Courts Bill could be "barely recognisable in its final format" after the Government suffered a series of defeats in the House of Lords this week on plans to clamp down on disruptive protestors.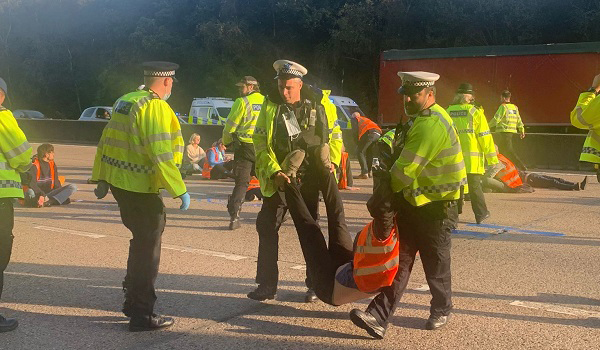 New powers turned down included plans to create a new offence of 'locking on', a tactic used by protesters to make it difficult to remove them, carrying with it a penalty of up to a year in prison.
And allowing police officers to stop and search anyone at a protest "without suspicion" that an offence was planned was also dismissed.
Emelia Bezant-Gahan, a solicitor in police law at legal firm Plexus Law, said: "The House of Lords will no doubt be mindful that in voting against more stringent measures regarding protests and demonstrations, they could be seen to be prioritising the rights of protesters rather than the rights of ordinary people to go about their daily lives and [who] are affected by protest-related disruption.
"However, in a time of unprecedented civil unrest and activism the peers will no doubt also be cognisant of protecting the rights and freedoms of expression."
She added: "It is now possible that the Bill will be barely recognisable in its final format come springtime – and some of the proposals cannot now be included in the final draft legislation due to the way the Government has included them.
"Certain aspects, such as the criminal offence for individuals locking themselves to objects such as road furniture and causing serious disruption, can only be re-introduced in a new Bill.
"Nevertheless, the impact of the changes upon modern policing in the UK could be extreme and unlike anything seen in recent times."
In addition, the Lords also voted against government amendments to:
Create a new offence of obstructing the construction or maintenance of major transport works;
Make it an offence for a person to interfere with the use or operation of key national infrastructure, including airports, the road network, railways and newspaper printers;
Allow individuals with a history of causing serious disruption to be banned by the courts from attending certain protests; and
Placing conditions on protests because of noise levels.
In the Commons on Thursday (January 20), leader of the House Jacob Rees-Mogg condemned the rejections as an advert for "people gluing themselves to motorways".
In total, 14 amendments proposed by the Government were voted down, with the Lords telling the Government to "think again" on the Bill.
Peers also voted in favour of making misogyny a hate crime in England and Wales by giving the courts the power to treat misogyny as an aggravating factor in any crime and increase sentences accordingly.
The Police, Crime, Sentencing and Courts Bill aims to make wide-ranging changes across the criminal justice system in areas including police powers, judicial procedures and offender rehabilitation.
The most controversial part of it was the planned changes to protests – which the Government had proposed in response to environmental activists who have blocked roads, glued themselves to trains and stopped printing presses in recent years.
The Lords said it will now go to a third reading, scheduled for Tuesday January 25, giving members a chance to "tidy up" the Bill, making any small changes to ensure it is effective.