New PFEW leaders to fight for roles a second time so all members can vote
The Police Federation of England and Wales (PFEW) has selected its new leaders.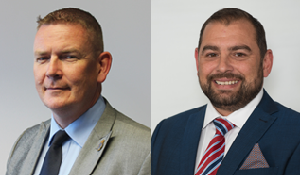 The Police Federation of England and Wales's (PFEW) newly-announced leaders will face a second election next year to give all its members a say on the organisation's future. Current vice-chair Calum Macleod was appointed as the PFEW's chair at a meeting of its interim national board (INB) on Tuesday (November 21) after standing as the only nominee. He will take over the role at the start of the new year – but could soon have to fight for his job as a review of the PFEW's election process will open voting to all its members. Che Donald, the PFEW's current firearms lead, will also face a re-election after he was announced as the organisation's new vice-chair. Under its current rules, the PFEW holds elections for its principal officer roles every three years but these only involve INB members – meaning just 30 officers get a say on the new leaders. The new process being introduced as part of recommendations from the Normington Review will feature an electronic voting system, allowing all members to decide who gets to be national chair. The exact date the reforms will be implemented is currently unknown but they are expected to be in place before the end of 2018, triggering a new leadership election. Mr Macleod and Mr Donald will be able to stand again if they are re-elected as regional representatives. Mr Macleod will replace current chair Steve White, who announced his resignation in August after leading the PFEW through a period of extensive reform. He first became a PFEW representative for South Wales in 2011 and was elected vice chair last year when Will Riches stood down after being arrested on suspicion of fraud. He also stood in the 2014 elections because he believed the organisation was "lacking in democracy". Before taking up his current role, he was the PFEW's general secretary and treasurer for the sergeants' central committee. His policing career began with Strathclyde Police in 1994, where he served until he transferred to South Wales in 2001. Mr Donald is currently the PFEW's lead on firearms, Taser and officer mental health and the chairman of the equality sub-committee and the sergeants' committee. He is also due to start his new role on January 1. Mr Macleod said he feels "honoured and privileged" to be elected to the role of chair. "With that comes the responsibility of ensuring that the organisation truly represents the views of rank and file police officers across England and Wales," he added. "Our organisational reform is nearing completion and now we must focus all our energy on achieving positive change for our members. "Let's not sugar coat the current situation that we are facing – policing is in a critical state. We will continue to be robust with stakeholders and demand that they acknowledge and address the real issues facing the service and our members."