New national counter terror lead `brings experience to the role`
Deputy Assistant Commissioner Neil Basu has been confirmed as the new national lead for counter terrorism policing.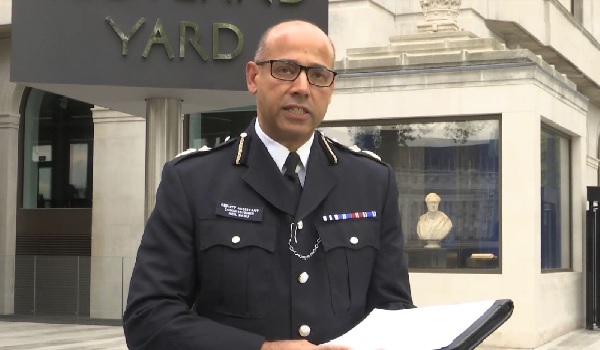 Mr Basu will take over as Assistant Commissioner for Specialist Operations from Mark Rowley, who plans to retire from the Metropolitan Police Service (MPS) later this month.
Commissioner Cressida Dick said the wave of terror attacks last year has proved "how good his judgment and resilience is".
The partial explosion of an improvised explosive device on a London Underground train in Parsons Green on September 15 marked the fifth terror attack in England that year – four of which occurred in the capital.
Commander Dean Haydon will undertake Mr Basu's role as temporary deputy assistant commissioner and senior national coordinator while the MPS searches for an appropriate replacement.
Home Secretary Amber Rudd said: "I congratulate Neil Basu on his appointment and welcome the experience he will bring to the role.
"We are all familiar with the unprecedented threat we face. I look forward to working with Neil as we make sure we have a broad and comprehensive response to terrorism which keeps pace with, and ultimately reduces, the threat."
Commissioner Cressida Dick added: "I am delighted that Neil is joining our senior team. He takes on a job of enormous importance and responsibility leading counter terrorism policing nationally and in London and is a worthy successor to Mark Rowley.
"Neil has the skills, experience and character we need. He has already undertaken some of the toughest jobs in policing, not least in the last year as senior national coordinator countering terrorism and has proven how good his judgment and resilience is.
"He is a leader of courage, compassion and integrity and I know he will do a great job."
Beginning his policing career as constable at the MPS, Mr Basu then worked as a detective in all ranks in a range of areas including anti-corruption and homicide for Trident within the Serious and Organised Crime Command.
Mr Basu was promoted to deputy assistant commissioner in 2015, leading on protection and security, including Royalty and Specialist Protection, Parliamentary and Diplomatic Protection, Aviation Policing and Protective Security Operations.
He then took up his current role as senior national coordinator for counter terrorism policing in October 2016, responsible for delivering the police response to pursuing terrorists and the Prevent strategy.
Mr Basu said: "It is a privilege to be asked to join the management board of the Met and to lead for CT policing at such a point in our history. It is both a challenge and a duty that I accept with humility and a sense of great purpose.
"I will lead to the best of my ability, the most extraordinary people I have ever worked with as they work night and day to counter terrorism."
Mr Basu will begin his new role on March 21.