New Home Secretary 'needs to engage more'
Theresa May's Cabinet has been swept aside as incoming Prime Minister Boris Johnson appointed new ministerial heads of both the Home and Justice departments.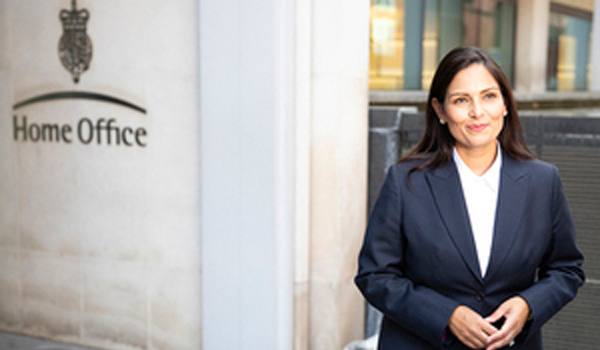 Priti Patel was appointed Home Secretary and Robert Buckland QC Justice Secretary in a more euro-sceptic Cabinet, made up almost entirely of MPs who supported his campaign to be leader.
She was immediately criticised for blocking communication with her local branch of the Police Federation.
Ms Patel replaces Sajid Javid, who has been rewarded for his support of Mr Johnson after his candidacy for the Conservative Party leadership faltered by being made Chancellor of the Exchequer.
And former Solicitor General Mr Buckland replaces David Gauke, who resigned as Justice Secretary over his opposition to Mr Johnson's willingness to leave the EU in October without a deal.
Ms Patel was a surprise appointment as Home Secretary – one of the four top positions in government alongside the Prime Minister, Chancellor and Foreign Secretary – as she has served in the Cabinet for only a year and her brief stint as International Development Secretary ended after she was sacked for holding unauthorised meetings with Israeli politicians.
The MP for Witham in Essex since 2010 is a Thatcherite Brexiteer who believes the EU will renegotiate the terms of the Withdrawal Agreement and is supportive of leaving without a deal.
Ms Patel caused controversy in 2011 when she told a BBC Question Time audience she supported capital punishment – a view she changed in 2016.
She has previously held ministerial positions in the Department for Work and Pensions and Treasury and has co-chaired the All-Party Parliamentary Group for Victims and Witnesses of Crime.
After the announcement she was to be made Home Secretary, Essex Police Federation (EPF) issued a press release welcoming her appointment but criticising her lack of engagement, blocking the staff association on social media after it criticised cuts to police budgets.
EPF chair Steve Taylor said: "We welcome the appointment of the new Home Secretary and hope she has more engagement with the national Police Federation than she chose to have with us in her local Essex branch.
"It is a matter of record that she blocked our Twitter account some years ago – and refused to engage with us – for having the temerity to point out the folly and consequences of drastic cuts to policing.
"Cuts which her boss the Prime Minister has vowed to reverse today in his first day in office."
Mr Taylor added: "As such we need to be convinced the new Home Secretary shares the positive views stated by the new Prime Minister.
"We hope Priti Patel picks up the more constructive relationship we had with her predecessor Sajid Javid, and rather than accusing us of scaremongering and crying wolf, listens to police professionals and our feedback, as we strive for a better police service for the public we all serve."
Top of her 'to do' list will be overseeing the recruitment of 20,000 new police officers over three years, a pledge made by Mr Johnson during his election campaign and one of four priorities he identified in his victory speech on Tuesday (July 23).
Securing at least £1.1 billion to implement the pledge will be made easier with Mr Javid at the Treasury, he has been an advocate for more funding for the police as Home Secretary.
Ms Patel said: "It's a great honour to be appointed Home Secretary.
"With this great office of State comes significant responsibility and I will do everything in my power to keep our country safe, our people secure, and also to fight the scourge of crime that we see on our streets.
"I also want to thank my predecessor Sajid Javid for his commitment to the Home Office and law and order.
"I look forward to the challenges that now lie ahead."
Mr Buckland, Prisons Minister since May, is another MP first elected in 2010 having taken the South Swindon seat from Labour.
Before becoming an MP, he worked as a lawyer specialising in criminal law and planning.
Julian Smith is the new Northern Ireland Secretary and will oversee policing and justice in the absence of a devolved government in the province.
Ministerial appointments are due to follow, but highly respected Policing and Fire Minister Nick Hurd is expected to leave the Home Office – speaking at the Police Federation of England and Wales Bravery Awards last week he said his attendance at the event was highly likely to be his last.