New DCC will foster stronger relationships to meet challenging times
A new deputy chief constable has been appointed at Merseyside Police.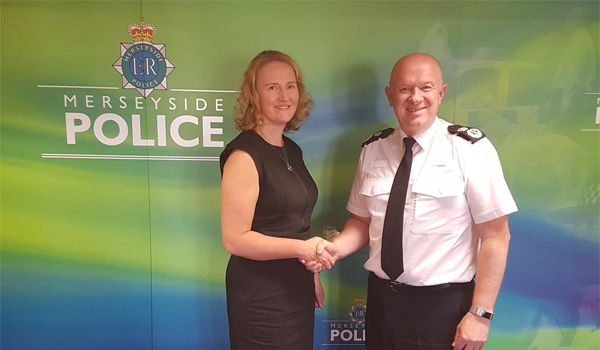 Current Assistant Chief Constable Serena Kennedy will take up the role in November, replacing Carl Foulkes who will leave to become chief constable of North Wales Police in November. 
Chief Constable Andy Cooke congratulated Ms Kennedy and said: "Serena came to Merseyside 17 months ago with a wealth of policing experience. In her time here she has proved to be a valuable member of the chief officer team and is highly respected by her colleagues and staff. 
"She is acutely aware of the challenges facing Merseyside Police and I know that she will continue her exceptional work with our communities, staff and partners." 
Ms Kennedy joined Merseyside Police in May  2017 after attending the Strategic Command Course that year. She leads the Intelligence and Investigation portfolio. 
Having first joined the service in 1993 at Greater Manchester Police, she has held a broad range of portfolios across uniformed policing and investigations. 
She also served with Cheshire Constabulary as Head of Public Protection and strategic lead for Early Help before being appointed into chief officer rank at Merseyside. 
Ms Kennedy said: "I am absolutely delighted to have been appointed deputy chief constable. 
"Having lived on the outskirts of Merseyside all my life, with my family living and working in Merseyside, I know what a fantastic place it is to live and work. 
"I am aware that this is a challenging time for policing, but I know that we have great police officers and staff who are massively proud of this organisation and together we will do everything we can to meet the challenges facing us as we go forward. 
"I also want to take this opportunity to further foster relationships, both internally and externally, and I look forward to continuing to working with staff, communities and partners to continue to deliver the exceptional level of service Merseyside deserves." 
Merseyside's Deputy police and crime commissioner, Councillor Emily Spurrell, said: "I congratulate Serena Kennedy on her appointment as deputy chief constable of Merseyside Police. 
"Serena has been a very effective and dedicated assistant chief constable since joining the force in 2017. She has proven she has the skills, experience and leadership to take over as deputy and I wish her all the very best in her new role, serving the public of Merseyside."