New criminal offence needed to address 'shocking' rise in violence against shop workers, say MPs
MPs are calling for a new standalone criminal offence to stem the rising tide of violence and abuse against shop workers.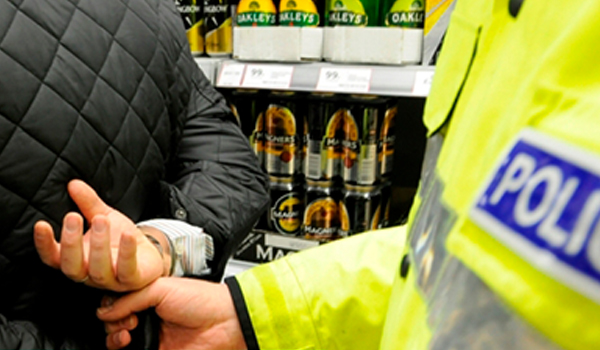 The Home Affairs Committee said the "patchwork of existing offences" for prosecuting incidents of violence and abuse against retail staff is not adequate to address the escalating nature of these crimes.
In a report published today (June 29), the committee also calls for a much stronger policing response to tackle the problem, which it says is becoming "endemic in British society".
Committee chair Yvette Cooper said policing leaders "must step up and make this a priority for local forces".
The committee said the past five years has seen a "shocking increase" in attacks directed towards retail workers, with the Association of Convenience Stores reporting that 89 per cent of people working in local shops had experienced some form of abuse.
The committee's inquiry, which heard evidence from across the retail industry, also found that abuse and violence had increased during the pandemic.
The British Retail Consortium (BRC) said that the number of incidents recorded last year was the equivalent of one a minute during a typical shopping day. USDAW (the Union of Shop, Distributive and Allied Workers) reported that 76 per cent of shop workers said that abuse has been worse during the Covid-19 crisis.
A typical trigger for violence and abuse against staff was enforcing laws in respect of age-restricted sales and restricted goods.
The report notes that other categories of workers, such as emergency workers and customs officers, have been afforded extra protection by the law in recognition of the service they provide to the public. The committee believes that offences against retail workers must be treated with the same seriousness, with extra protection from the law.
"On far too many occasions retail workers are being left alone to manage dangerous situations, which put both their physical and mental wellbeing at risk," said the report.
"The Home Affairs Committee's own survey found that only one in five shop workers who reported incidents were satisfied with the response from the police. When the police fail to attend or follow-up serious incidents, it undermines trust and confidence in them, discourages reporting, and weakens the deterrent for repeat offenders."
As well as more support from employers and more prevention work on local high streets, the report urges the Government to consult on the scope of a new specific criminal offence to protect retail workers from unacceptable violence and abuse.
Ms Cooper said: "Everybody should be safe at work. Shop workers are the lifeblood of our local high streets and communities. During the Covid-19 pandemic, retail workers kept our communities going and they deserve our thanks and gratitude. It is even more shameful, then, that abuse and assaults against shop workers went up during the pandemic, and it is completely unacceptable that these attacks have become so commonplace in our society.
"Yet too often the police have not taken these crimes seriously enough and workers have been left to deal with the traumatic consequences alone. Those who abuse and assault shop workers must not be allowed to reoffend with impunity. Policing leaders must step up and make this a priority for local forces – with more neighbourhood police, clear plans to identify repeat offenders, respond to incidents swiftly and better record and understand patterns of local crimes."
She added: "Other public workers have rightly been afforded extra protection by the law in recognition of the public service they provide and the increased risks they face, and a standalone offence for assault on emergency workers has produced promising early results in increasing prosecutions.
"Violence and abuse towards shop workers must be treated with the same seriousness and those workers must be afforded similar protection in law."
The committee is calling for urgent improvement in reporting and responding to retail crime, including:
The expansion of neighbourhood policing teams who can rebuild relationships with retailers, identify prolific offenders and respond quickly to local reports of retail crime;
Proper recording of violence against shop workers, including mandatory recording of offences committed in a retail environment to allow for better monitoring of the scale of the problem and patterns of local crime;
A new criminal offence to send a powerful and long overdue message that assaults on retail workers will not be tolerated, with government urged to consult urgently on the scope of the new offence
Police and crime commissioners (PCCs) and chief constables to provide local leadership in giving greater priority to retail crime and the creation of business crime reduction partnerships for all areas, including supporting small independent shops;
An Employers Charter setting out how employers should support and protect staff, including reporting, security measures, training, counselling, and banning prolific offenders; and
Safer Streets Fund resources to support measures on high streets and retail settings
The report additionally highlights the need for renewed focus and action on the causes of retail crime, including theft linked to organised crime and in particular the consequences of drug addiction. It wants local drug rehabilitation services to be adequately and sustainably funded to help break the cycle of prolific offending.
Drawing on evidence that the creation of a specific offence for assault on emergency workers has driven up prosecutions in that area, the committee wants to see an equivalent standalone offence of assault on a shop worker. It believes this would send an "unambiguous message that retail workers on our high streets and in our communities must never be unsafe at work".
The Association of Police and Crime Commissioners' lead on business crime, Sussex PCC Katy Bourne, said: "We have to break the self-defeating loop of low reporting levels and missed opportunities to gather evidence and share intelligence on offenders. We have technology and capabilities but we need common platforms and quicker collaboration.
"PCCs need to pressure their chief constables to recognise the true cost of business crime beyond the value of goods that get stolen."
Helen Dickinson OBE, chief executive of the BRC, said: "The report rightly acknowledges the scale of the issue, and we are pleased to see that it calls on Government to urgently consult on a new criminal offence.
"The BRC has been long calling for a new statutory offence for abusing, threatening or assaulting a shop worker. An offence would impose tougher penalties on perpetrators and send a clear message that these incidents will not be tolerated."
She added: "Shop workers have suffered for far too long – according to our latest crime survey, violence and abuse is on the rise with over 450 incidents of violence and abuse every day, despite retailers spending record sums of £1.2 billion on crime prevention.
"Staff have been verbally and violently assaulted, as well as spat at and coughed on for challenging shoplifters, enforcing age-restricted sales and implementing coronavirus safety measures.
"Notwithstanding the evidence, the Government has repeatedly rejected numerous calls to protect shop workers through the creation of a specific offence. We hope this report will prompt the Government to finally do what is necessary to protect retail staff from harm across the country and stop dragging its feet – this could be achieved through an amendment to the Police, Crime, Sentencing and Courts Bill which is currently going through Parliament."
Federation of Independent Retailers president Stuart Reddish said it has been "lobbying the Government for years" to take retail crime more seriously and clamp down on offenders by introducing stricter laws and tougher sentencing.
"Independent retailers have been and continue to be at the front line during the Covid-19 pandemic, and have to deal with physical and verbal threats on a near-daily basis for simply doing their jobs," he said.
"Nobody should have to deal with such incidents but, sadly, all too often retail workers have come to see it as just that – part of the job."
Paddy Lillis, USDAW general secretary, said: "With almost 90 per cent of shop workers suffering abuse, two-thirds threatened and nearly one in ten assaulted, retail workers, their friends, family and loved ones are saying loud and clear that enough is enough; abuse should never be just a part of the job.
"USDAW is looking for a simple stand-alone offence for assaulting a retail worker to encourage prosecutions and provide the deterrent effect that our members are desperately looking for; sending a clear message that assaulting or abusing someone working to serve the public is totally unacceptable.
"We also welcome the recommendations that support a better police response, greater joint working with employers, more resources to tackle retail crime and better reporting. USDAW is ready to engage with the police, local authorities and employers to make a success of these measures. All of them can make a real difference to the experience of our members, but they must be backed up with the new legislation."