New community taskforce to improve policing of 'sensitive' events in NI
The Police Service of Northern Ireland (PSNI) is to establish a new Community Relations Taskforce to help improve its policing of "sensitive and contested matters".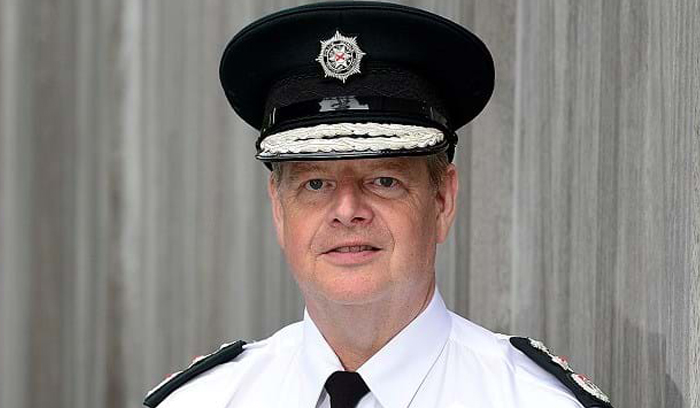 In his latest report to the Northern Ireland Policing Board (NIPB), Chief Constable Simon Byrne said it was clear that its approach to these issues during Covid-19 restrictions had caused "upset, hurt and frustration for some".
"Policing events that arose during the Covid-19 period has not been without its challenges," said Mr Byrne. "There has been much debate about how we have policed some protests, gatherings and funerals.
"However, it is clear to me that our policing of sensitive and contested matters such as gatherings and protests has caused upset, hurt and frustration for some. That genuinely held view is personal to those involved and I recognise the depth of feeling in some quarters."
Mr Byrne said the aim of the new taskforce was to build a "much better appreciation" of the needs and concerns of diverse communities and use that to inform its policing style.
"Upon reflection, and drawing upon my experiences from policing in London, Liverpool and Manchester, I believe our structured engagement with the diverse communities across Northern Ireland has room for improvement," said Mr Byrne in his report, published today (December 3).
"We have invested 400 new officers into neighbourhood policing this year.
"This is the what. The how is about improving our understanding of community needs and expectations, to enable more responsive problem-solving approaches."
Mr Byrne said he will be prioritising community engagement in 2021 to improve trust and confidence among those who were particularly affected by these events and others who may feel isolated or marginalised.
"To that end, I will be establishing a new Community Relations Taskforce led by Assistant Chief Constable Mark McEwan," he added. "It will seek to include membership from across communities, academia and critical friends, as well as our professional leads and our staff associations and networks.
"The aim will be to build a much better appreciation of the needs and concerns of the many diverse communities across Northern Ireland and use that to inform our policing style and our operational approach."
Mr Byrne said he will work closely with the NIPB in shaping the work of the taskforce and its terms of reference
He added: "As we approach the end of 2020, I must place on record my pride with how colleagues have coped and adapted to the evolving circumstances throughout the year.
"We have continued to respond to calls for service, maintained our efforts to counter terrorism and serious and organised crime and to build our service to local communities via our expanded neighbourhood policing offer. All parts of our organisation are made up of people who have faced the same worries and concerns as the rest of society about their own health and that of their loved ones. Their collective commitment is to be commended.
"We have maintained operational capacity throughout this crisis, which is a credit to the commitment of our police officers and police staff."
Over the period between March 16 and November 25, 230 PSNI officers and staff tested positive for Covid-19 and were absent for a period of time.
As of November 25, 417 were absent for Covid-19 related reasons, of which 359 were self-isolating, 59 were confirmed as sick with Covid-19 and two were symptomatic.