New chief constable vows to use promotion to protect the vulnerable
The police and crime commissioner (PCC) for Gwent has formally appointed a former Dyfed-Powys special constable as his new chief constable.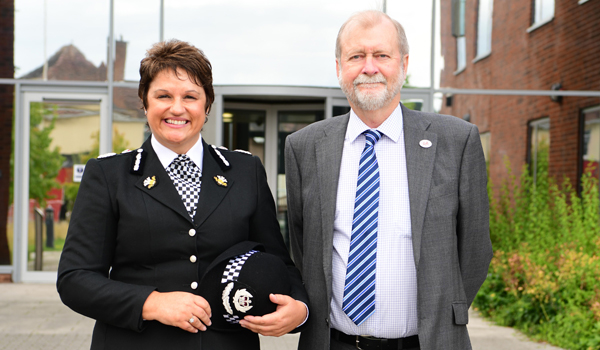 Pam Kelly has been temporary chief constable at Gwent Police since Julian Williams retired in June and she vowed to use her permanent promotion to help the most vulnerable in society.
Ms Kelly joined the force in 2017 after 23 years at Dyfed-Powys Police, where she also served as a Special Constable before becoming a regular officer in 1994.
Her appointment was confirmed by the Gwent Police and Crime Panel at a meeting at County Hall in Usk on Monday (August 12).
Gwent PCC Jeff Cuthbert said: "Pam Kelly came through the selection process as an outstanding candidate. Her knowledge, experience and commitment to the people of Gwent was demonstrated strongly. The Police and Crime Panel have agreed that she is the best candidate for the job and I would like to thank them for their support.
"I would like to formally congratulate Pam Kelly on her new role and I look forward to working closely with her."
Ms Kelly said she was honoured that the recommendation to be chief constable by the PCC was endorsed by the Police and Crime Panel.
"Having lived all of my life in Wales, I am immensely proud to be able to lead a Welsh police force," she said.
"Policing affects us all and I don't underestimate the responsibility I have to make sure we are there for the people that need us the most.
"With over 24 years of service, I am very conscious of the demands on our workforce and the changing shape of policing. We are constantly evolving but with the right people, the right training and the right support for our officers and staff, we will deliver a service that works for our communities.
"We are not alone in our responsibilities; together we need to continue to forge strong partnerships in order to keep Gwent safe. Many hands make light work and we must continually look to identify where we can nurture opportunities of joint working that support our communities.
"My main motivation through my career has always been to help the most vulnerable in our communities and to hold those responsible for committing crimes to account. Now that I've been appointed chief constable, this motivation is more important to me than ever.
"I am confident that with the support of my officers and staff, we are very well placed to continue to deliver the service that our communities have rightly come to expect.
"We now need to build on what currently works and embrace a mindset that explores new technologies and skills to take Gwent Police into the future.
"I want Gwent officers to be proud of the service that we deliver together, I want the younger generations from all communities in Gwent to want to be part of this service, and I want our communities to have the confidence that we will be there when they need us most."
Much of Ms Kelly's 25 years' service has been within the Criminal Investigation Department, dealing with covert policing, public protection and professional standards.
She is passionate about safeguarding vulnerable people and during the 1990s was seconded to Her Majesty's Inspectorate of Constabulary, where she was tasked with inspecting forces in England and Wales on their child protection procedures following the tragic death of Victoria Climbié.
Ms Kelly was also the first policing author for the All Wales Child Protection procedures, which played a key role in implementing the multi-agency public protection arrangements across the UK.
In 2011, she played a key role as a senior identification manager in aiding the recovery of deceased British citizens following the Japanese tsunami, as well as plane crashes in Afghanistan and Tripoli.