New chief constable of Lincolnshire Police says it is 'a real privilege' to lead force
A senior officer who has led on some of the biggest investigations in Lincolnshire has been confirmed as the county's new chief constable.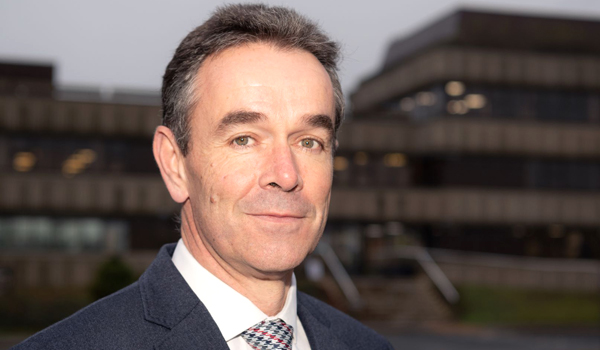 Chris Haward will move from his current role as head of the East Midlands Special Operations Unit (EMSOU) following an "exhaustive recruitment process" by Lincolnshire police and crime commissioner Marc Jones.
He expects to take up the post on December 19 when current chief constable Bill Skelly retires.
Mr Jones said he was "delighted to be able to bring a senior officer of Mr Haward's experience and commitment to Lincolnshire" and very much looked forward to working with him to keep communities safe.
In his time at EMSOU – the largest police collaboration in the UK – Mr Haward led on major crime investigations, tackling serious and organised crime, covert policing and counter terrorism. Under his leadership, the unit has seen an increase in operations completed, arrests made and convictions secured.
Mr Haward said it will be "a real privilege to lead Lincolnshire Police" and he was looking forward to getting started.
The first thing he intends to do is "get out and about in Lincolnshire's communities" to understand what is important to people who live and work there.
He said he will also be prioritising resource to improve the fight against crime; listening to officers and staff about ways to improve public safety; and considering processes around rehabilitation to ensure they are helping those most in need.
Mr Haward, who has a degree and a Masters from Leicester University, was raised in Zambia and Botswana before returning to Yorkshire for secondary school. He joined Leicestershire Police in 1991 where he worked his way up from 'beat bobby' to detective inspector through to chief superintendent.
He was the Gold commander for Leicester City Football Club for several years, including the Premiership winning season, and spent three years with Interpol tackling drug trafficking across the globe.
In 2016, Mr Haward moved to Derbyshire Constabulary as assistant chief constable and took over EMSOU in early 2018 at the rank of deputy chief constable. He is married with two children.
"The role presents some exciting challenges and the force has grown a strong national reputation as an innovator, which I look forward to building upon," said Mr Haward.
"I am already very familiar with the force from my work leading on specialist operations across the region, but I am excited to become part of the Lincolnshire community and to deliver the policing service that local residents expect and deserve.
"I joined the police nearly three decades ago because I have a strong desire to fight crime and keep communities safe. I will bring that determination and dedication to the county and look forward to meeting the challenges of the future."
Mr Jones added: "Mr Haward has a fantastic track record of fighting crime and managing community policing and his appointment is another positive step forward in the drive to create an effective force Lincolnshire can be proud of.
"While congratulating Chris, I need to make some comment about Dr Paul Gibson. In September, I announced Paul as my preferred candidate for the post.
"Paul was an excellent candidate but I had to stop the previous appointment process due to a procedural issue unconnected to Paul's performance. Paul was naturally disappointed and after reflection, decided that he did not wish to reapply for the position.
"I respect Paul's decision and want to make it clear that the procedural issues that halted the first selection process did not arise from any aspect of his application, interview or nomination."