New app to tackle 'epidemic' of tool theft
A new app has been launched to help combat a tool theft "epidemic" in the construction industry.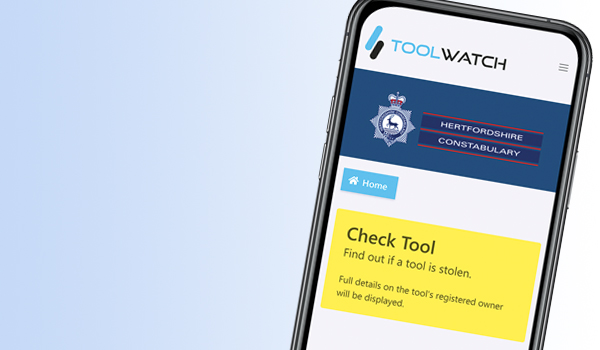 Accredited by Secured by Design (SBD), the national police crime prevention initiative, the ToolWatch App aims to fight tool theft by assisting the police in returning stolen goods to their owners and saving business owners' time and money.
It is also the first such app to receive BSI's Secure Digital Applications Kitemark.
A recent survey by business insurers Simply Business found that one in three (37 per cent) tradespeople have had their tools stolen, costing an average of £3,000 in lost earnings and replacing the tools.
And crime figures suggest van break-ins and the theft of tools now occurs once every 23 minutes.
SBD development officer Lyn Poole, who is currently on secondment to SBD from the Metropolitan Police Service, said: "We are delighted to have worked with ToolWatch and BSI and awarded police accreditation to the ToolWatch App for its capability to deter and reduce crime.
"Tool theft is a problem and we welcome any product that will help police forces return recovered stolen tools to their rightful owners. We understand tool theft is costly for victims in terms of replacement and loss of earnings. We hope the ToolWatch App is used widely by tradespeople and others, as well as police forces, to combat tool theft."
The ToolWatch App is a low-cost subscription service that registers a tool's serial number and make. Users take a photograph of the tool and upload it to a secure private profile, which can easily be amended or updated. The police have access to their own separate secure interface, which allows them to check immediately whether a tool has been stolen.
The SBD believes the app provides an opportunity for tradespeople and business owners to work in partnership with the police to deter theft.
Once an item is recovered, using a simple three-step process that takes just a few seconds, a police officer can check ToolWatch to see whether a tool has been stolen, view the owner's details and inform them via ToolWatch that their property has been recovered. This is done with a notification sent automatically informing the owner of the contact details of the relevant police force.
Similarly, if an officer carries out a vehicle stop, or finds someone selling tools at a car boot sale, they can check who the owner of the tool is, by name and photograph, by simply entering the serial number and make on ToolWatch.
And tradespeople about to buy a second-hand tool can check whether it is stolen by typing the serial number into ToolWatch, which will show whether it has been reported missing.
Alan Brett, co-founder of the ToolWatch App, said they worked closely with police forces so the app could "realise its full potential" in helping to stop van thefts.
"For construction workers, the ToolWatch App gives them the reassurance and security that if their tools are stolen and found by the police, they will get them back," he said.
"But the ToolWatch App will also be effective for all business and industries with equipment that is liable to be stolen – so it has huge potential in the fight against crime.
"With tool theft up 30 per cent year-on-year, and a van being broken into once every 23 minutes, there is no doubt that business owners and crime fighters are crying out for help to tackle this epidemic."