New animal protection Bill 'Finn's Law' gets MPs' support
The Animal Welfare (Service Animals) Bill, known as Finn's Law, has passed through its third reading at the House of Commons and will now proceed to the House of Lords, taking it one step closer to becoming law.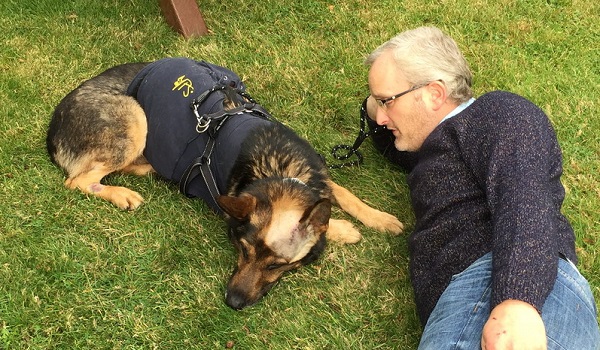 Courageous service animals such as police dogs and horses will be offered greater protection under the new law being backed by the Government. 
It relates to the prominent Finn's Law campaign, named after the police dog that was stabbed while pursuing a suspect with its Hertfordshire Constabulary handler PC David Wardell. 
The legislation will remove a section of the current law of self-defence, often used by those who harm a service animal. 
This change, coupled with the Government's plans to increase maximum sentences for animal cruelty offences to five years in prison, will ensure those who harm service animals are punished accordingly. 
The Bill was put forward by North East Herts MP Sir Oliver Heald, who said: "This unanimous all party backing for the Animal Welfare (Service Animals) Bill augurs well for its next stages in the House of Lords. We are on the way to proper legal protection for police dogs and other service animals." 
Police dog Finn and PC Wardell were brutally attacked in Stevenage, Hertforshire, in October 2016 while chasing a robbery suspect. Finn was stabbed in the chest and head while attempting protect PC Wardell and was not expected to survive. The officer received a stab wound to the hand and believes the dog saved his life.   
A 16-year-old was charged with actual bodily harm in respect of the injuries to PC Wardell, but only with the offence of criminal damage for the attack on the police dog. Finn has since retired from active service.   
Both PC Wardell and Finn were in the gallery of the House of Commons to witness the latest developments in the Bill's progress 
"What happened at Parliament makes me very proud," said PC Wardell. "Proud of Finn and all our service animals. When Finn was seriously injured it didn't seem right to me or the public that he was seen as an inanimate object in law. We have made a significant step towards ensuring that those responsible for injuring these amazing animals will be held accountable."  
The law would apply to all service animals, such as the three police horses allegedly punched by a football fan outside Celtic Park football ground in Glasgow last month.  
David Rutley, Animal Welfare Minister said: "I am delighted that Finn's Law has passed another hurdle thanks to Sir Oliver Heald and all the supporters who have campaigned for service animals to be given greater protection. The Government will continue to support this important Bill."