Nearly 600 more lives saved on railway after suicide awareness training
Officers helped to stop 45 per cent more people killing themselves on the railway last year contributing to a continuing fall in the suicide rate.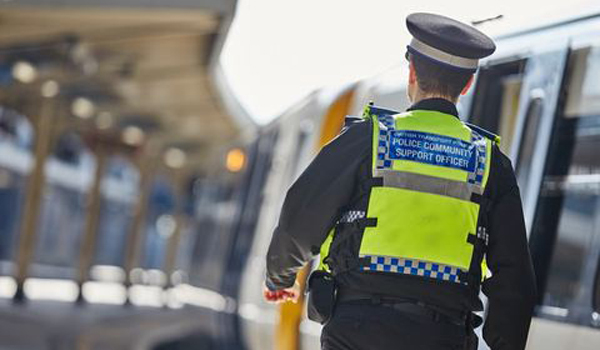 Officers helped to stop 45 per cent more people killing themselves on the railway last year contributing to a continuing fall in the suicide rate. Two hundred and ninety people committed suicide on the rail network in 2016/17, down from 305 the previous year. Meanwhile, British Transport Police (BTP) officers and rail staff carried out 568 more life-saving interventions – preventing 1,837 deaths in total. The force estimates that each suicide on the railway costs the economy £1.7 million, meaning officers` actions saved approximately £3 billion. Chief Constable Paul Crowther told Police Professional the rise in life-saving incidents was mostly due to a new training programme BTP has run with Network Rail and the Samaritans. For the last 18 months, officers and rail staff have been taught to spot the signs someone might be at risk of committing suicide and how best to engage with them. Mr Crowther, the national lead for suicide prevention, said: "The techniques are very simple, particularly when we're talking about rail staff intervening. "Just going up and engaging with someone has a very specific and measurable effect. "It's not exactly rocket science what we're teaching, we are just giving people confidence to make that intervention and recognise the sorts of behaviours." BTP received 9,546 calls concerned for people with suicidal tendencies or mental health problems last year. These incidents led to 2,577 detentions under mental health legislation and another 2,340 people being referred to local authorities out of concern for their wellbeing. Most of the new life-saving interventions were conducted by officers in Home Office forces. Other forces helped save 616 people in 2016/17, 214 more than in the previous year. Rail staff helped save 404 people – up from 235 – and BTP officers saved 398. Members of the public are also becoming more likely to help save a life, as they carried out 193 interventions compared with 145 in 2015/16. Alongside offering suicide awareness training, BTP has introduced foot patrols in London featuring police officers working alongside psychiatric nurses to identify people in crisis. The force has also worked with the College of Policing and other partners to produce guidance on tackling suicides. The figures, released in BTP's annual report, also showed the force recorded seven per cent more crime last year compared to the national average of 11 per cent. Passengers reported 52,235 offences in 2016/17 while the number of rail journeys increased by 17.5 million – or 16 crimes per million. The number of sexual offences rose nine per cent to 2,132, while violent crime increased by 13 per cent. However, part of this increase is thought to be a result of victims becoming more willing to come forward. Mr Crowther believes the smaller increase in total crime compared with the rest of England and Wales is due to BTP's unique operating environment and its focus on raising public confidence. "Lots of the measures we have implemented together with the railway companies have gone a long way towards reducing crime," he said. "A lot of the rail infrastructure is well-controlled public space: it's barriered, it has really good CCTV, it is often well-lit and in the majority of cases there are a lot of staff at locations. "We often find that a railway station can be an oasis in areas where crime outside of the station can be quite high." Ruth Sutherland, Chief Executive Officer of Samaritans, said: "The reduction in suicides on the railway shows that the partnership between Samaritans, Network Rail, BTP and the wider rail industry is making a real difference. "But suicide is everybody's business and we want to see the same dramatic reduction in suicide figures in general. "We look forward to taking this learning to a wider audience and having an even greater impact on suicide numbers in the coming years."