NCA takes action against "terror loophole" guns
Ten people have been arrested and at least 61 firearms seized following a National Crime Agency (NCA) operation targeting UK residents who had purchased prohibited blank-firing weapons online.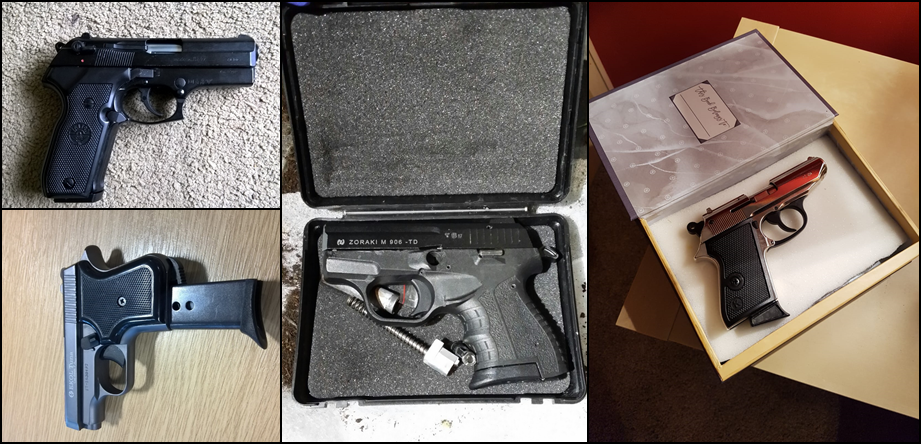 Those arrested were previously identified by NCA investigators as having bought potentially lethal Flobert guns from sellers in eastern Europe. 
The Flobert is a low-calibre pistol named after French inventor Louis Flobert who designed them to be shot indoors in the parlours of large homes. Standard and blank-firing models are available and both can readily be converted to fire full-power live ammunition. 
Flobert firearms are illegal to possess in the UK but are freely available in countries across eastern Europe and can be purchased online for less than £100. 
Criminals and terrorists have typically sourced firearms by reactivating deactivated weapons, as was the case in the Charlie Hebdo shootings. However, a tightening of the rules on deactivation mean such weapons are now impossible to convert, increasing the popularity of Flobert guns.  
Earlier this year, a study into the illicit gun market in Europe, conducted by Project Safte, an EU-funded initiative, said Floberts fell into a loophole due to an oversight by EU policymakers as the new firearms directive on deactivated guns did not apply to weapons modified to shoot Flobert ammunition. 
The report said Europol expects the guns to be "a significant security problem in the coming years" and noted that a Flobert firearm was used in the public mass shooting by a 17-year old in Munich in July 2016, during which ten people were killed and 35 others injured. 
The report further stated that the loophole for Floberts "has opened up a new legal market with significant risks of spillover to the illicit market" and that the guns were now in great demand among criminals. 
The NCA operation involved 25 police forces and regional organised crime units across the UK.  
Of those arrested in the NCA's day of action last week, four people have now been charged with various firearms offences and remanded in custody. 
They include Nathan Hughes, 41, from Cornwall, who was charged with three offences after Devon and Cornwall Police officers seized three firearms and a sub-machine gun that he had dismantled and buried in various locations in his garden. His charges included the armed robbery of an off licence in Redruth. 
Robert Lockhart and his partner, Carol Stirling, both 49 from Appin, were arrested by the NCA and Police Scotland's Organised Crime Partnership after a number of firearms and weapons were seized from their home. They were each charged with seven firearms offences. 
Cambridgeshire Police arrested 26-year-old Calvin Jackson at his home in Peterborough. He was charged with six offences following the seizure of seven handguns, ammunition and Class A and B drugs. 
In addition to the 61 firearms seized, officers recovered 1,000 rounds of ammunition, two crossbows, £2,000 in cash, eight Rolex watches and a 1kg of cannabis. 
Simon Brough, firearms threat lead at the NCA, said: "This operation highlights just how important it is for us to tackle the importation of illegal firearms into the UK. The mere availability of these firearms creates a range of significant risks to the public. 
"Handguns are the most commonly used criminal firearm in the UK. We know they are strongly linked to drug supply and are used by criminal gangs to facilitate their illegal activity, so these types of operations are a key part of our work to reduce serious violence and protect the public. 
"The level of gun crime in the UK is one of the lowest in the world and strict UK legislation means it's harder for criminals to access illegal weapons here. But we must continue to identify the supply routes by which illegal firearms enter the UK and collaborate with police forces and international law enforcement agencies to disrupt the criminal gangs using them."