NCA investigates modern slavery allegations in Leicester
The National Crime Agency (NCA) has confirmed it is working alongside Leicestershire Police and other partner agencies to investigate allegations of modern slavery and exploitation in the textile industry in Leicester.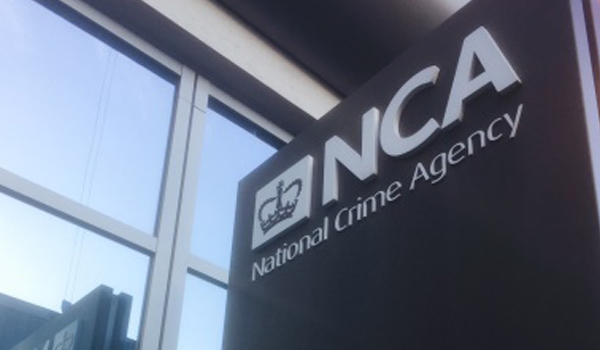 It follows recent investigations by the Sunday Times into the online fashion retailer Boohoo Group over allegations that workers in its Leicester factories were being paid as little as £3.50 an hour, significantly below the legal minimum wage of £8.72.
The NCA said it was now in the process of "assessing that information", alongside its partners, including HM Revenue and Customs (HMRC), the Gangmasters and Labour Abuse Authority (GLAA), the Health and Safety Executive (HSE), Leicester City Council, Leicestershire Fire and Rescue and Home Office Immigration Enforcement.
"Our primary focus is on the protection of vulnerable people and safeguarding them from harm," it added.
"As part of that, in recent days NCA officers have joined partners in attending a number of business premises in the Leicester area to assess some of the concerns that have been raised in respect of modern slavery. These visits are likely to continue.
"The NCA does not intend to give a running commentary on our activity, but once our assessment is complete we will look to engage with partners to deliver a response at the appropriate level.
"Tackling modern slavery is one of our highest priorities, and we are committed to working with partners across law enforcement, the private, public and charity sector to pursue offenders and protect victims wherever they may be."
Leicestershire Police said it had carried out a number of routine visits at workplaces and factories in Leicester following the concerns raised about the operation of some businesses.
It confirmed no enforcement was used during the visits and they were carried out "to engage with the business owners and discuss concerns raised". However, one person was detained during the visits in relation to immigration matters.
Leicestershire Police said further routine visits would be made over the coming weeks.
Detective Inspector Jenni Heggs said: "We are aware of recent reports in the media of factories in Leicester continuing their operational work despite being in a period of lockdown.
"We have been working with partners sharing information to carry out these visits, which we will continue to do going forward.
"We have been engaging with business owners and workers, discussing health and safety matters and giving advice. This is to ensure the health and safety of people who are working in the city."
"We want to remind all businesses to ensure they are following employment law and ensuring the health and safety of their employees."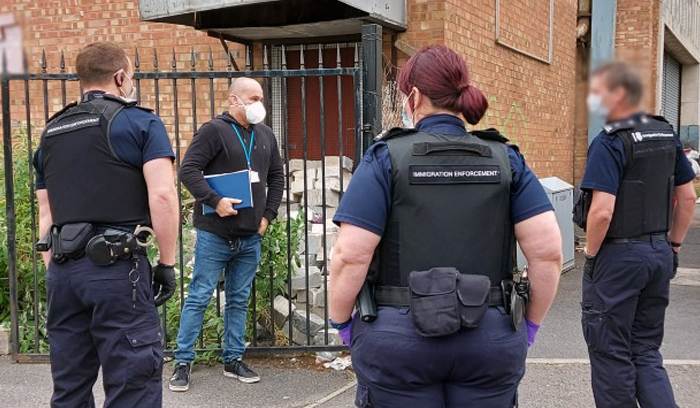 Leicester City Council confirmed it was working with partners across the city to tackle issues with factory working highlighted by the current coronavirus crisis.
It said following the announcement of the first local lockdown, Leicester's textile industry has been in the spotlight, with reports of various breaches of health and safety, employment law and safe working practices at some factories, as well as complaints that some are not ensuring safe social distancing.
Leicester's deputy city mayor, Councillor Adam Clarke, said: "Complaints about textiles factories operating during the lockdown in April were referred to the HSE for investigation. Last week we were made aware of other allegations.
"These factories were visited by the HSE and the police. Verbal advice was given, but no notices were served and none of the factories were required to close.
"Leicester has around 1,500 textile factories and 10,00 textile workers, the second highest concentration in the UK behind Manchester. Many of these businesses are run perfectly ethically and make a huge contribution to our city economy. We are determined to do all we can to ensure that every factory in Leicester complies with the law and treats its workers with respect."
He said councils have limited powers on these issues. They have no powers to check on working conditions inside a building, enforce the minimum wage, or monitor the legality of the workforce.
The four main national enforcement bodies are the GLAA, HMRC, the Employment Agency Standards Inspectorate and the HSE.
GLAA head of enforcement Ian Waterfield said: "We are committed to working with partners to ensure that workers in Leicester are safe during the coronavirus pandemic and are not having their employment rights eroded or abused.
"Allegations of labour exploitation are something we take extremely seriously and we will continue to take appropriate action to safeguard potentially vulnerable workers."
He said no enforcement had been used during the visits and officers had not at this stage identified any offences under the Modern Slavery Act 2015.
In Leicester, the council has been instrumental in forming the first partnership of its kind in the UK by bringing together key agencies and creating a taskforce to tackle non-compliance in the textiles supply chain.
In October 2017, Leicester's City Mayor Sir Peter Soulsby convened a meeting of more than 60 representatives from national regulators, manufacturers, and retailers to discuss how the problems of non-compliance within the industry could be combatted.
They concluded that effective intelligence sharing between agencies and the transition of this into coordinated action at a local level was critical.
Following this event, attendee Sir David Metcalfe, author of the first Labour Market Enforcement Strategy 2018/19, put forward a specific recommendation to establish a Leicester textiles compliance pilot.
Cllr Clarke said: "In 2017, the House of Commons produced a Select Committee report into the garment industry – a report which we supported and to which we contributed. We were especially keen that the report's recommendations were implemented, but the Government rejected every one.
"Despite this, we have continued with our work in this area and, acting on Sir David's recommendation, we began to pilot a textiles taskforce with the four main national enforcement bodies in September 2018. This taskforce is now being led by the city council and its work is ongoing."