NCA assists in seizure of £100 million cocaine bound for UK
The National Crime Agency (NCA) has played a key role in an international operation which has led to the seizure of around 1.5 tonnes of cocaine in the USA.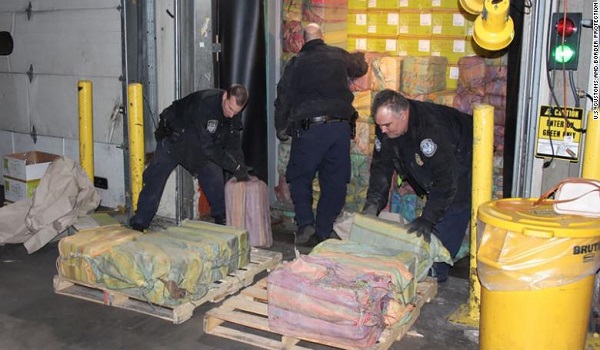 Following a tip-off from the NCA, the drugs were discovered by US Customs and Border Protection (CBP) officers in a container at the Port of New York/Newark. The container, which had arrived on a large vessel traveling from Buenaventura, Colombia, was due to be shipped to Rotterdam in the Netherlands, and then onwards to an address in London. 
CBP officers were assisted by agents from the Drug Enforcement Administration (DEA),
Coast Guard, Homeland Security Investigations, New York Police Department and New York State Police.  
Around 60 packages weighing a combined 1,437 kilo were seized. The UK street value of the drugs is likely to have been in excess of £100 million. The seizure is believed to be the biggest at the Port of New York/Newark in around 25 years. 
"The drugs were hidden within a legitimate shipment of dried fruit," said DEA special agent in charge, Ray Donovan. "The cocaine was loaded on the very tail end of the shipment. That tells us it was the last thing put onto the container so that it was the first thing to be taken off, which is indicative of a very sophisticated organisation that's been involved in trafficking for some time." 
Mr Donovan said the shipment is part of a larger trend in higher cocaine usage in recent years. "The cocaine market is coming back," he said, adding that authorities seized about 12 tonnes of cocaine in 2018. 
Dave Hucker, regional head of operations for the NCA, said: "This is a significant international seizure made possible by our partnerships with law enforcement in the US, and taking this amount of cocaine out of circulation will be a massive hit for the organised crime group involved.
 
"While this seizure was made on the other side of the Atlantic there is no doubt in my mind that a proportion of these drugs would have ended up on the streets of the UK.
 
"We know there are direct links between drug distribution and street violence, intimidation and exploitation in UK towns and cities. These kinds of seizures demonstrate the role the NCA plays in preventing that."