NCA and Home Office stands banned from Black Pride festival
The National Crime Agency (NCA) and the Home Office have both had their stands removed from the upcoming UK Black Pride festival after the organisers accused them of "continued discrimination against the communities we represent" and admitted it had been an "error of judgment" to have allowed them to participate in the first place.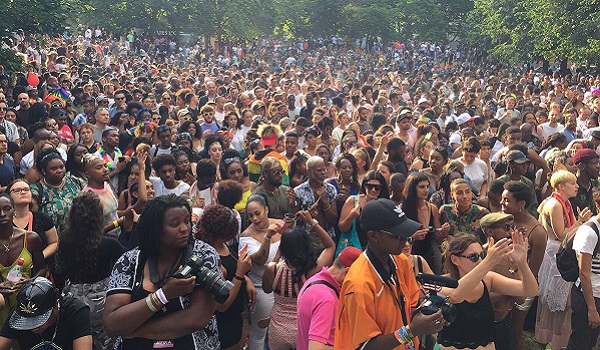 The board of directors of UK Black Pride, which will take place Haggerston Park, East London, on July 7, see the work that UK Black Pride and other organisations do in supporting LGBT+ refugees and asylum seekers as a further reason not to allow the Home Office and NCA to have a presence. 
A statement issued by the board of directors said: "When we approved their application to have a stall, we were under the impression the stall would be manned by the Home Office's internal LGBTQ network, Spectrum… we thought it would also be an opportunity for our community to understand more deeply the remit of the NCA, but understand that both the public perception of the NCA and its historical impact in the communities we represent means our annual event is not the time nor place for this conversation.  
"We call upon the NCA to take more steps in making clear their commitment to serving the communities we represent." 
It added: "On reflection, and after concerns raised on social media, we realise it was an error in judgment to allow the Home Office and the NCA spaces at UK Black Pride.  We are grateful that the community has raised their concerns with us and we are sorry for any alarm caused." 
A Home Office spokesperson said: "The Home Office is committed to supporting the LGBT+ community, both as employees and as an integral part of the public we serve, and we are disappointed by this decision. This government has a proud record of providing protection for asylum seekers fleeing persecution because of their sexual orientation or gender identity and all such claims are carefully considered in light of all the evidence available." 
An NCA spokesperson said: "At the NCA, diversity is at the heart of our workforce and we are committed to ensuring our officers feel supported and included regardless of protected characteristics or socio-economic background.
"Through our presence at pride and other Inclusion Diversity and Equality events, we also aim to show our support to, and build trust across the diverse communities we serve, ensuring that all who have been a witness or victim of crime feel confident to report it. We are of course extremely disappointed that we will not have stall at Black Pride this coming weekend but respect the decision of the organisers.
"We recognise there is more work to be done in the wider law enforcement community with regards to the representation of black and minority ethnic LGBT+. In the NCA we interweave our deep intersectional understandings on diversity throughout all of our work, and we are committed to continuing these conversations to be a force for positive change."