Nation's bravest police dogs to be honoured
The UK's bravest and most dedicated police dogs and handlers are to be honoured at the annual Thin Blue Paw Awards.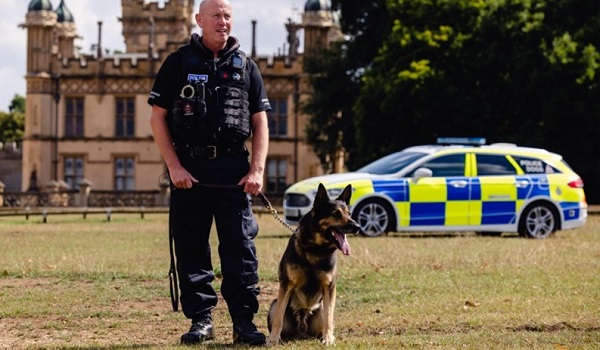 The glittering awards ceremony – organised by UK charity the Thin Blue Paw Foundation and supported by Animal Friends Insurance – takes place on Thursday night (September 22) at Knebworth House, Hertfordshire, hosted by BBC News presenter Rich Preston.
Five dogs and their handlers are to be honoured at the event which will see more than 100 people and many dogs come together to celebrate the 'incredible bravery, unwavering dedication and immeasurable difference' police dogs make in fighting crime and keeping the public safe.
The event is organised by the Thin Blue Paw Foundation, a charity that protects, celebrates and supports working and retired service dogs across the UK.
Winners include RPD Logan, a police dog who was shot three times in the head in the line of duty; RPD Luna, whose incredible tracking skills helped to find many missing people and save 38 lives; and PD Astro, whose bravery was acknowledged after he was injured protecting his handler during an attack.
Thin Blue Paw Foundation trustee Kieran Stanbridge said: "Police dogs are definitely the unsung heroes of our frontline policing teams and commit their lives to using their noses, paws and teeth to fight crime, help people, locate cash, drugs and firearms, and keep their colleagues and communities safe.
"As well as supporting these dogs once they hang up their harnesses at the end of their careers, at the Thin Blue Paw Foundation we wanted to celebrate and showcase the incredible job they do with our annual awards.
"This year's winners are prime examples of the incredible bravery, strength, specialist skills, and dedication these wonderful dogs show every day when they head out to work; as well as the important role dog handlers play in helping police forces across the UK fight crime. This is our way of saying thank you."
Animal Friends Insurance chief executive Westley Pearson said: "Animal Friends Insurance is delighted to be supporting these awards once again having witnessed first-hand the extraordinary impact the Thin Blue Paw Foundation is making for serving and retired police dogs across the UK.
"Back in 2021, the awards raised awareness of the astonishing bravery of Britain's police dogs and their handlers who had given everything to courageously protect our communities and keep us safe. This year, the nominees and winners' stories were once again truly inspirational and portray the true pinnacle of devotion and commitment as they dedicate themselves tirelessly to saving lives, catching criminals, and protecting our streets without question. It's a privilege to be able to give something back to these incredible dogs and support them throughout what is hopefully a long and happy retirement."