National Police Memorial Day 2021
The 18th National Police Memorial Day, honouring those police officers who have made the ultimate sacrifice protecting and serving their communities, took place on Sunday (September 26) at Lincoln Cathedral.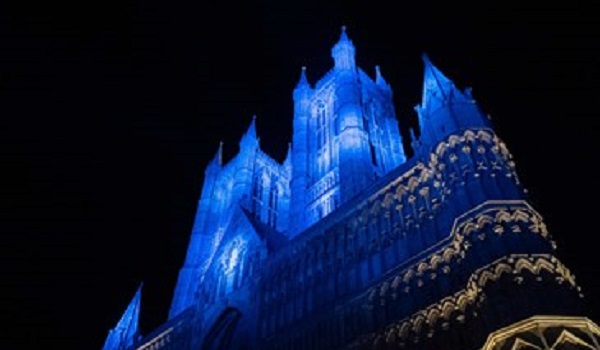 The event was founded in 2004 by retired Sergeant Joe Holness to commemorate the memory of colleagues lost their life in the line of duty. It followed the death of his colleague, fellow Kent officer Police Constable Jon Odell, who was killed in December 2000 after a vehicle was driven at him.
Reverend Canon Wilbraham led the service, attended by family members, police officers and government officials. He said: "National Police Memorial Day exists to pay tribute to the brave men and women who gave us their all; long may we remember them and their sacrifice. I hope that the service provides comfort and reassurance that their legacy will live on. We are grateful for your ongoing involvement and support."
John Apter, national chair of the Police Federation of England and Wales said: "National Police Memorial Day is an incredibly important day in the policing calendar. It's a day to remember those colleagues we have lost and to ensure they are never forgotten. Policing is a family, and when we lose a member of our family the pain is felt far and wide. The National Memorial Day is a time to reflect, pay tribute and remember. It is so important, especially to the families, friends and colleagues of those we have lost, that their loved ones will never be forgotten."
The Home Secretary Priti Patel read Corinthians 13, a passage on the subject of love from the New Testament of the Bible and Dame Cressida Dick, Commissioner of the Metropolitan Police Service (MPS), gave the address.
Remembering Sergeant Matt Ratana and others who have died, Dame Cressida said: "Our first thought, as mine was on that dreadful morning a year ago yesterday when I woke to be told that one of my officers, Matt, had been shot, is to protect their family and those who love them. This year, we sadly add six more families to those we want to protect and support.
"The families of Paul Keany, Chris Miller, Matt Ratana, Darryl Street, Thomas White and Quamar Zaman. We will never forget you nor will we ever forget the sacrifice your loved ones made. Their lives give us hope, motivation and inspiration that through our police work good can prevail, safety and peace can be secured.
"Each and every one of our fallen colleagues will have helped and protected so many people, brought comfort, justice, safety, hope, reassurance and courage to others. We are proud of them."
The officers named by Dame Cressida included Sergeant Paul Keany, 44, of Northamptonshire Police who died while on duty on March 11 last year and whose death was "not treated as suspicious" according to the force. MPS PC Christopher Miller died in a crash as he rode a motorbike to work on September 15 last year. The Scottish Police Memorial Trust listed Constable Thomas White, who served Police Scotland for 29 years, on its roll of honour, saying he "collapsed and died while walking home from duty" on February 10.
Constable Darryl Street of the Civil Nuclear Constabulary died in a car crash on January 14 aged 59, according to Cumbria Constabulary where he also previously served as an officer. Greater Manchester Police Constable Quamar Zaman died aged 38 on March 25.
As a show of support, public buildings around the UK were illuminated blue to mark the occasion, including numerous police headquarters buildings.