National Police Bravery Awards 2020
A police officer known widely as 'Britain's bravest cop' was named winner of the prestigious Annual Police Bravery Awards at a ceremony in London on Tuesday evening (October 12).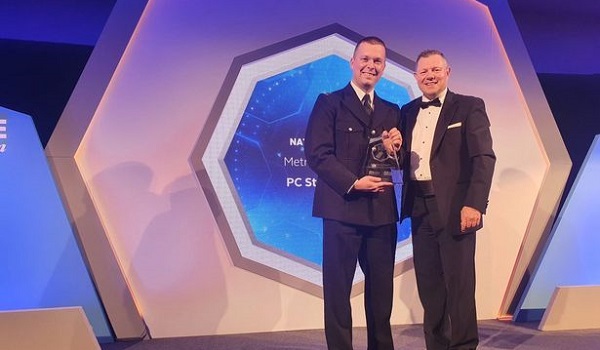 Police Constable Stuart Outten of the Metropolitan Police Service (MPS) fought off machete attacker Muhammad Rodwan in August 2019 after being repeatedly struck over the head by the assailant's 2ft long blade.
The 29-year old officer had stopped Rodwan's van for having no insurance in Leyton, East London, which led to the attack. He suffered six deep wounds to his head, skull fractures, and two wounds to his arm and multiple finger fractures, but managed to use his Taser on Rodwan to stop him.
The award was presented by Police Federation of England and Wales national chair John Apter, who said: "We have the finest police officers in the world – dedicated public servants who, without hesitation, put themselves in danger to protect others. They are humble, professional and committed individuals who I am proud to call my colleagues.
"Police officers are everyday heroes who are anything but ordinary. My congratulations go to PC Stuart Outten and all the Police Bravery Awards nominees. They deserve every bit of recognition they receive."
In addition to PC Outten's award, seven regional winners were recognised for going above and beyond the line of duty.
They were:
Police Sergeant Simon Hogg and Retired PC Paul Cowling (Durham Constabulary);
PS Amos Durose and PC Kristian Avons (Staffordshire Police);
PC Geoff Marshall (Derbyshire Constabulary);
PC Roz Fricker (Dorset Police);
PC Richard Shea, PC Matthew Reynolds (North Wales Police);
An officer from the South East who cannot be named; and
PC Joanna Wilber and PC Jack Wilber (Greater Manchester Police).
A total of 93 nominees from 42 forces in England and Wales were honoured at the 2020 edition of the event, which had been due to be held last July but was postponed due to the pandemic.
Home Secretary Priti Patel and chair of the National Police Chiefs' Council Martin Hewitt were among guests.
An event celebrating the 2021 nominees will be held in December.