National first as marine unit issues FPN for breach of new water-based order
An Essex Police Marine Unit officer has issued the first fixed penalty notice (FPN) in the country for an infringement of a water-based public spaces protection order (PSPO).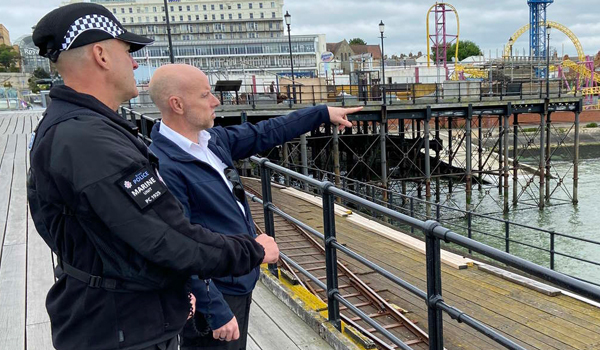 It was issued to a man identified as the owner of a personal watercraft (PWC), which had launched into a restricted area as outlined by the PSPO along the Southend coast.
Originally covering the city centre and seafront, the PSPO was extended by Southend City Council in March to include the whole of the Southend foreshore area, and is believed to be the first such water-based PSPO in the country.
It brought in conditions for the safe use of PWCs, with council staff and police officers having the authority to issue FPNs for breaches.
Southend City Council has previously issued FPNs to people who have used barbecues on the beach, but this is the first to be issued to someone involved in an incident on the water.
The incident happened on August 10 and was reported to police a week later. An investigation by Marine Unit officer PC Ian Newling resulted in a Rawreth man being fined £100 for breaching the Southend PSPO. He was identified as being the owner of the PWC, which had launched into a restricted area.
PC Newling said the rider of the PWC had been riding it irresponsibly and playing up to a crowd without regard to the consequences for other water users.
"I identified the owner, who had helped to launch the PWC, and it was clear that he was also involved," he said.
"We've seen a rise in the use of personal watercraft since the pandemic, as well as a significant increase in the number of kayakers, stand-up paddle-boarders and swimmers.
"Not all are proficient or confident in the sea while some PWCs can reach speeds of up to 90mph. People don't always know how to use them and so the PSPO was extended across the city council's seaward limits to help keep everyone safe."
He added: "The weather this summer has dampened spirits somewhat so we have not seen much anti-social behaviour on the water but we will take action against people who disregard the rules and place themselves and others in danger.
"We don't want to discourage people from coming to the coast or using PWCs. The idea is simply to make sure that everyone is safe and that includes the riders themselves."
Within the Southend PSPO, anyone riding a PWC along the foreshore has to stay at least 400m away from any public beach, pier or berthing area.
Failure to comply is a criminal offence that can lead to a FPN of £100 being issued, or a fine of up to £1,000 upon conviction at court.