National app launched to help police in fight against cybercrime
A new app that provides practical guidance and advice on dealing with cybercrime is being rolled out to all forces in England and Wales for free from today (July 13).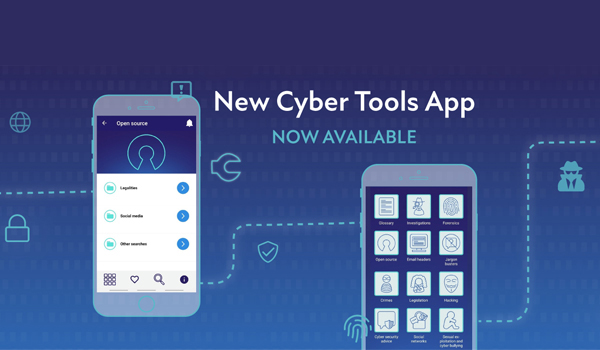 The Cyber Tools App was initially developed by the Metropolitan Police Service, but it has been further enhanced by the Police ICT Company as part of a national rollout managed by the National Police Chiefs' Council (NPCC) Cybercrime Programme and funded by the Home Office.
The app will assist frontline and operational staff with cyber and digital-related matters, offering guidance and advice on subjects such as legislation, a glossary of terms, jargon busters, social networking security tips, managing a digital scene and general investigative advice.
National Cybercrime Programme lead T/Detective Chief Superintendent Andrew Gould said: "Cybercrime continues to grow in both volume and threat and we need to ensure officers and staff have the knowledge and capability to respond to it.
"The NPCC National Cyber Crime Programme secured funding to establish dedicated cybercrime units at force level, which we now have in place. The Cyber Tools App is part of the ongoing investment in upskilling officers and staff in dealing with cybercrimes to provide victims with a consistent and competent response no matter where they live.
"The Cyber Tools App has been made available, free of charge to all forces, and has received some great feedback already. The programme team is now working with forces to deploy the app to all their officers and staff via their secured devices"
The Cyber Tools App is part of the overall programme of work to develop the capacity and capability of the Team Cyber UK network, which is the name given to all law enforcement agencies working together at a local, regional national and international level to combat cybercrime.
The National Cybercrime Programme team is responsible for the regional cybercrime units, regional dark web operational teams and force cybercrime units. It is focused on developing the capacity and capability of UK policing's cyber response at the local, regional, national and international. Current projects include: the development of regional cyber resilience centres; Cyber Prevent intervention panels; cyber vans; cyber dogs; secure storage and realisation of assets from seized cryptocurrency; force and regional IT connectivity and tools; and a private sector data ingest and intelligence capability.
The programme oversees an annual budget of around £27 million from both the Home Office Serious Organised Crime fund and Cabinet Office National Cyber Security Programme.