MPS starts recruitment drive to boost PCSO numbers by 40 per cent
The Metropolitan Police Service (MPS) aims to increase police community support officer (PCSO) numbers by more than 40 per cent under a new recruitment campaign launched on Tuesday (June 6).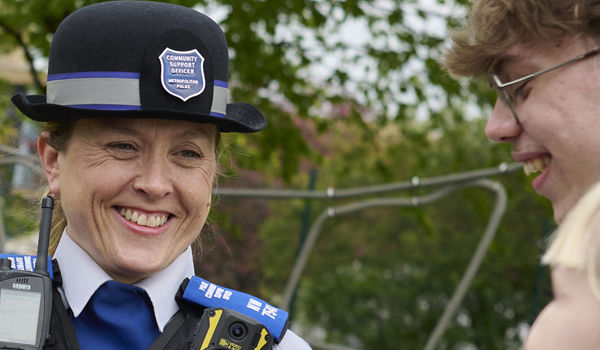 The recruitment drive is being funded by the Mayor of London and will increase the number of PCSOs in London to more than 1,700 to help build the "strongest ever neighbourhoods" for London
The 'Say Hello to…' campaign features real PCSOs and highlights the everyday scenarios they deal with, such as fighting crime and supporting victims, as well as the critical skills and local knowledge they use each day.
The MPS, which is looking to attract 500 new officers, says PCSOs are "at the heart of its family. "They build trust with communities and can work on everything from policing high-profile events and responding to major incidents, to keeping the road network running smoothly," it said.
The new campaign highlights how for PCSOs, bravery can come in many unexpected forms, and their ability to talk to each and every individual in their community will become their most vital asset in keeping neighbourhoods safe.
New recruits will receive training on all the knowledge, skills and legislative powers needed to carry out their duties, including first aid and personal safety, enabling them to deal calmly with whatever challenges arise each day and to serve their community with confidence.
New PCSOs can expect to begin with six weeks of building skills in areas such as gathering and handling evidence, managing scenes of crime, patrol and emergency life support.
Commander Dr Alison Heydari, Front Line Policing Command, said: "Community policing is our foundation and this is a very critical time to join us as a PCSO to work alongside police officers and volunteers, and really make a difference in local neighbourhoods and to the lives of local people.
"The Met is firmly stepping back into community policing where we will rebuild those bonds of trust and partnership with communities, so we are working together to tackle the issues Londoners tell us they want dealt with."
Mayor of London Sadiq Khan, said: "I am determined to keep building on the progress we are making in London – where violence and knife crime is falling – bucking the national trend.
"The 500 new PCSOs I am funding will play a big role in reducing crime further, rebuilding community relations and public trust in the police and supporting the Commissioner's Turnaround Plan for the Met.
"Being a PCSO is a unique and rewarding role at the heart of the work to make communities safer.
"I encourage Londoners from all backgrounds to apply and be part of the change we all want to see in our police, as we continue to work together to build a safer London for all."
The campaign also highlights the range of attractive benefits that come with the role, including an annual starting salary of around £30,232 and a possible additional shift allowance of between 12.5 and 20 per cent.
In addition, successful applicants get 28 days paid annual leave, rising to 33 days after five years' service, as well as access to a civil staff pension scheme and free travel on or off duty on London's buses.