MPS officers to be issued spit guards outside of custody suites
The Metropolitan Police Service (MPS) Commissioner Cressida Dick has announced that all officers will be issued with spit guards and most will receive a "recognition payment".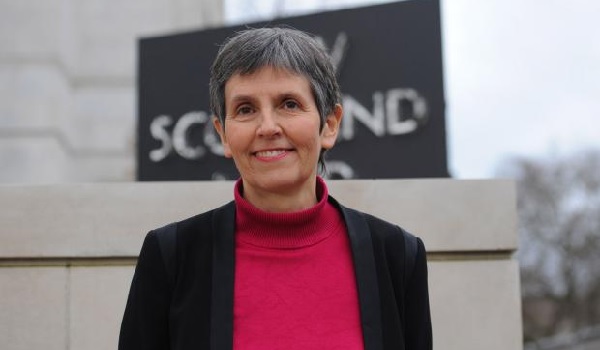 Detailed guidelines are to be developed to allow the roll out of spit and bite guards to officers beyond their current use in custody in the coming months following a careful consultation on their use.  
And the majority of officers up to and including the rank of chief superintendent will receive a one-off payment of £350 "in recognition of the extraordinary pressures officers have faced in London throughout 2017 and 2018". 
The recognition payment has been made possible because the force had already planned for higher pay for officers than was finally awarded, so the budget could accommodate it. 
Ken Marsh, chair of the Metropolitan Police Federation (MPF), which has campaigned strongly for spit guards to be issued to officers, said it was "great news" while the recognition payment was "no less than our hard-working members deserve". 
The MPF conducted a poll of MPS officers last September, which showed that 2,331 officers had been spat at in London while on duty in the past two years, and 562 were bitten. Ninety-five per cent of those asked said they wanted to carry a spit guard on duty.  
The measures come as part of a raft of changes to support MPS officers and staff in their roles and to recognise their efforts that were announced on Thursday (February 7). 
Additionally, the 2.5 per cent 2018 pay award for police staff will be backdated to August 1 last year and payment of the increase will be made at the end of this month.  
An extra 330 Taser-trained officers will be deployed between November and March 2020, on top of the 6,467 Taser officers already provided by the Taser Uplift Project.  
There will also be a further 400 mobile fingerprint devices issued, so that suspects can be identified, and others ruled out more quickly on the streets, without officers having to return to stations. 
Ms Dick said: "My role is to ensure officers have what they need to do their jobs effectively and safely. The announcements I have made to colleagues today are important issues that are intended to support officers and staff in keeping London safe.  
"Officers, in particular are tasked with responding to often dangerous situations and they need the protection to be able to do so safely, in order to protect the public, victims and suspects." 
Mayor of London Sadiq Khan said: "Our police officers work extremely hard and in challenging circumstances to keep Londoners and our city safe.  
"After a period when our under-resourced and overstretched officers have had to cope with the terrorist attacks and other horrific events on top of their day-to-day duties keeping London safe, I am glad we are able to make this additional payment in recognition of their ongoing efforts to protect us.
"I've been clear that attacks on officers who put their lives on the line to protect Londoners and visitors are entirely unacceptable. It's vital the commissioner is able to ensure the police have the equipment they need to do their jobs, although of course it must always be used in a proportionate and transparent way."  
Mr Marsh added: "The rolling out of spit guards to all officers in the MPS is great news for colleagues in London – and MPS officers will appreciate having access to this vital piece of kit when they carry out their difficult role. 
"Being spat at is abhorrent and we know it's sadly happening too often to our colleagues in London, so the force's decision over this piece of personal protective equipment is a real positive and we appreciate that they have listened to our compelling argument. 
"Officers protecting the people of London should not be subject to this sort of disgusting assault when they are carrying out their duty. Three police officers a day are being spat at in London – and thanks to this positive decision from the MPS we hope that fewer will be. 
"We were asked to get the evidence on spit guards. We did. And our members will now be better off for this."  
Mr Marsh added that the Federation thanked the MPS management board and Ms Dick for agreeing to make the recognition payment after "the Government ignored the recommendations of the independent body that advises them on police pay".  
John Apter, chair of the Police Federation of England and Wales, welcomed the commissioner's decision.  
"It is only right that officers have access to this vital piece of protective equipment, and I must praise MPF chair Ken Marsh and his team for the tireless work they have done to help bring about this change for the benefit of their members," he said. 
"However, as much as this is a win for officers in London, it further reinforces clear disparity around the country – some forces still have not introduced spit and bite guards.  
"Officer safety should never be dependent on where an officer works. What we want is for all our members – throughout England and Wales – to have access to the same protective equipment.  
"I would urge those chief constables who have not yet issued spit and bite guards to all officers to do the right thing. There is no excuse for not providing officers with this essential equipment which has been described by some officers as a life-saver."