MPS officers bring unexpected Christmas joy
Police officers gave a Christmas Day surprise to an elderly couple when they delivered a brand new car to replace one stolen in October.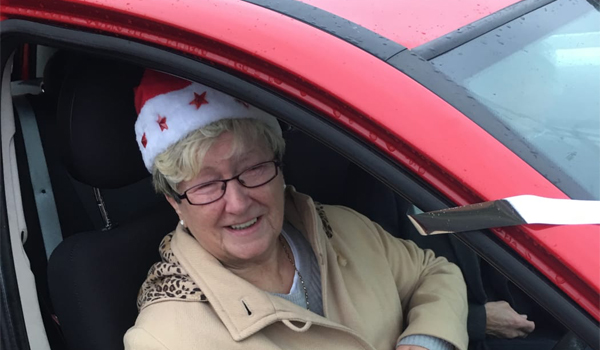 Police officers gave a Christmas Day surprise to an elderly couple when they delivered a brand new car to replace one stolen in October. Michael and Linda Gibbs were left devastated when their beloved 29-year-old Austin Metro was taken from their garage in Coulsdon, Surrey, but were "bowled over" when they received a knock on the door on December 25 and saw a Vauxhall Corsa sitting on their driveway. They were also presented with a cheque for £2,300 to cover its upkeep and insurance. The special gifts were the result of donations from Metropolitan Police Service officers based in Croydon and the public, plus a generous offer from a local car dealer after being touched by the couple's predicament. The couple, both in their 70s, relied heavily on their car to make hospital appointments but after it was stolen on October 8, and then found abandoned badly damaged over a week later, they could not afford to replace it. Local officers started a collection to raise funds to help them buy a new one and, after digging deep themselves, they opened the fund up to the public. Officers identified a local car dealership, Onodi in West Wickham, which generously offered to replace the vehicle free of charge. Detective Constable Helen Cooper of Croydon CID said: "Our hearts went out to Mr and Mrs Gibbs when we saw how upset they were to lose their car. It was a real lifeline to them. We just had to do something to help them. As well as donations from officers, the local community and general public have all rallied together to raise money for the couple which will cover costs for insurance and MOT." Mr and Mrs Gibbs were shocked to see six officers at their door at 10am on Christmas Day with the new car, including many modern features their old Metro sadly lacked. Mrs Gibbs said: "You`ve given us our life and our freedom back. I am overwhelmed by the support and generosity you have given us. "When Helen called to ask if we`d be in on Christmas morning, I thought you were going to give us a little hamper. I had no idea it would be a car. Now I need to think about what I`ll call her. "This is an amazing car, it has electric windows, two wing mirrors and no choke. She is amazing. Thank you so so much. Make sure you make a note of our registration number so you can give us a wave when you`re out on patrol." Mr Gibbs added: "Once you leave, I think we will have a good cry, I`m just so overwhelmed, I don`t know what to say. I`ve heard of wonderful things happening to people and we try and do our bit for charity, but I never thought this would happen for us." Forensic work on the recovered vehicle led officers to identify 19-year-old Fabion Wilfred of Coulsdon, Surrey. On December 2, he pleaded guilty at South London Magistrates Court to handling stolen goods. He will be sentenced at Croydon Crown Court on January 21, 2018.