MPS officer suspended following 'extremely disturbing' video of knee on neck arrest
An officer from the Metropolitan Police Service (MPS) has been suspended from duty after "extremely disturbing" footage of one of him apparently kneeling on the neck of a handcuffed black suspect emerged on social media.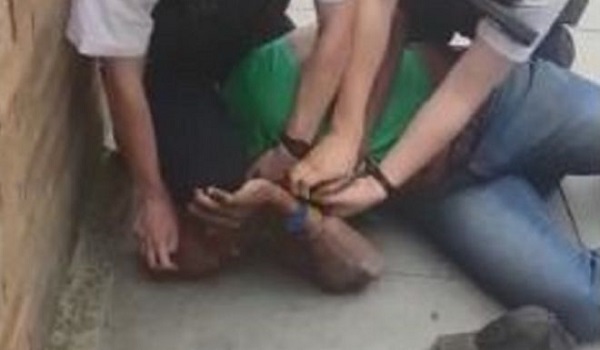 A statement released by the force said that police had been called by a member of the public at approximately 6.30pm on Thursday (July 16) to reports of a fight in Isledon Road.
A man, who matched the description of one of those involved, was detained by officers and arrested at the scene on suspicion of affray and possession of an offensive weapon.
Video of the incident shows one of the two officers apparently placing his knee on the neck of the suspect in a bid to control him. The man can be heard repeatedly shouting: "Get off my neck".
Kneeling on the neck as a form of restraint is a technique taught to law enforcement officers in some countries. It is believed that this method of restraint was responsible for the death of George Floyd, who died in the US state of Minnesota on May 25.
A white police officer, Derek Chauvin, was found to have used his knee to pin Mr Floyd to the ground for more than eight minutes. Mr Chauvin has since been charged with murder. The death of Mr Floyd lead to protests around the world and has highlighted issued around the relationship between the police and the black community.
The man arrested in London remains in custody but the incident has been referred to the Independent Office for Police Conduct (IOPC).
MPS Deputy Commissioner Sir Steve House said: "The video footage that I have seen today and is circulating on social media is extremely disturbing. I understand that many viewing the footage will share my concern.
"The man involved was arrested, taken to a police station and has now been seen by a police doctor.
"Some of the techniques used cause me great concern – they are not taught in police training.
"We have quickly assessed the incident, including the body-worn video footage from the officers and their statements and justification for their use of force. As a result we have referred the matter to the IOPC.
"One officer has been suspended and another officer has been removed from operational duty, but not suspended at this time. This decision will be kept under review. We will cooperate fully with the IOPC investigation."
Mayor of London Sadiq Khan said: "I'm deeply concerned about this distressing incident and we have raised this with senior officers at the Met Police as a matter of urgency.
"I welcome the fact the incident has been reviewed quickly by the Met and it's right that they have referred it to the IOPC."