MPS officer shot dead inside custody centre
A murder investigation has been launched after an officer from the Metropolitan Police Service (MPS) was shot dead inside a custody unit in South London.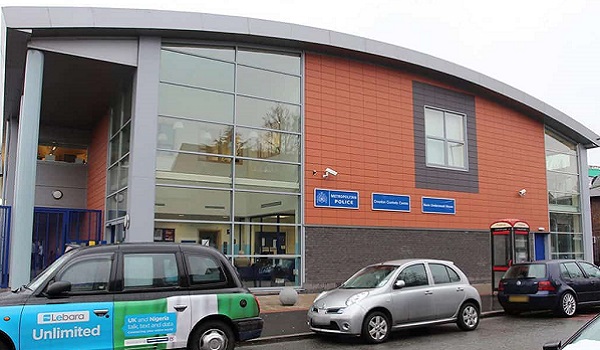 The incident occurred at around 2.15am on Friday, September 25. The officer was shot by a man who was being detained at Croydon Custody Centre in Windmill Lane.
Officers and paramedics treated him at the scene and he was taken to hospital by London Ambulance Service but the officer subsequently died at hospital.
A 23-year-old man was detained by officers at the scene. He was also taken to hospital with a gunshot wound and remains in a critical condition.
It is believed that the man shot the officer and then turned the gun on himself in an attempt to take his own life.
No police firearms were discharged during the incident.
It is believed to be the first time a police officer has been shot and killed on duty since September 2012 when Dale Cregan killed Police Constables Fiona Bone and Nicola Hughes.
Commissioner Dame Cressida Dick said: "This is a truly shocking incident in which one of our colleagues has lost his life in the most tragic circumstances. My heart goes out to his family, direct colleagues and friends.
"We are currently supporting his family and also have a dedicated team providing support to the officers and those in the custody centre who witnessed the shooting.
"When a colleague dies in the line of duty the shockwaves and sadness reverberates throughout the Met and our communities. Policing is a family, within London and nationally, and we will all deeply mourn our colleague.
"We are in the early stages of the investigation and are still working to establish the circumstances surrounding the incident and we will provide further updates when we have them."
MPS response officer Stuart James tweeted: "This morning my team and I responded to the worst possible radio transmission from custody, words and scenes I shall never forget. The unimaginable happened to our police family. We have lost not only a good skipper but also a real gentleman. One of the best. RIP brother."
John Apter, National Chair of the Police Federation of England and Wales said: "This is utterly devastating and heartbreaking news that a colleague from the Metropolitan Police has been shot and killed. Our thoughts are with the officer's family, friends and colleagues at this most terrible time.
"Policing is a family and when we lose one of our own in such a devastating way it effects us all. The dangers police officers face every day are very real and sadly, as we have seen can result in officers making the ultimate sacrifice.
"There will now be an investigation and therefore it would be wrong to say any more at this time or to speculate, other than to say that our hearts are with the family of our officer who has been killed and all involved in this horrific incident."
Lissie Harper, the widow of PC Andrew Harper said: "This is devastating news. No person should go to work never to return. No human being should be stripped of their life in a barbaric act of crime.
"Another hero has been taken from us in unwarranted violence. They protect us but who protects them? Another life is gone in a disgraceful act that reminds us of the danger our police officers face with every shift they begin.
"My heart is broken for yet another member of our blue line family, and all of his family, friends and colleagues who must now accept a life without him in it. My thoughts and love are resolutely with them."
Ken Marsh, chair of the Metropolitan Police Federation, said: "The murder of a colleague on duty is utterly devastating news. Officers across London are in shock and sick to their stomachs at the nature of his death.
"All our thoughts – and that of all our members – are with his family, friends and close colleagues at this time. We and all members of the Police Family across the country are all utterly heartbroken at this news.
"Officers put themselves in danger every day to protect the public. Sadly, on very rare occasions officers make the ultimate sacrifice whilst fulfilling their role. When that happens we will ensure their bravery and sacrifice is never forgotten. Colleagues involved in the incident will have our full support for as long as is needed."
National Police Chiefs' Council chair Martin Hewitt said:"This is a truly terrible incident and my thoughts and condolences go out to the officer, his family, friends and colleagues at what is a deeply distressing time. It is another tragic reminder of the risks police officers take on a daily basis to keep the public safe.
"Policing is a family and I join my colleagues across the country in mourning the senseless death of one of our own in the line of duty."
Home Secretary Priti Patel said: "I am deeply shocked and saddened to learn that a Metropolitan Police officer has been shot and killed in the line of duty.
"My thoughts today are with his family, friends and policing colleagues in London and across the country.
"This morning I spoke to Metropolitan Police Commissioner Cressida Dick to express my condolences and to offer whatever support is needed as this tragic event is investigated.
"This is a sad day for our country and another terrible reminder of how our police officers put themselves in danger each and every day to keep the rest of us safe."
David Lammy MP, the Shadow Secretary of State for Justice, tweeted: "Appalling news that a police officer has been shot dead in Croydon. It is tragic when an officer loses their life in the line of duty, while doing their job keeping the public safe. My thoughts and condolences are with the officer's family, colleagues and friends."
A statement by the MPS said it had referred the incident to the Independent Office for Police Conduct, which will lead an independent investigation. The MPS will retain primacy of the murder investigation.