MPS officer numbers reach record levels
The Metropolitan Police Service (MPS) has reached its highest ever number of police officers, according to new figures released by the force.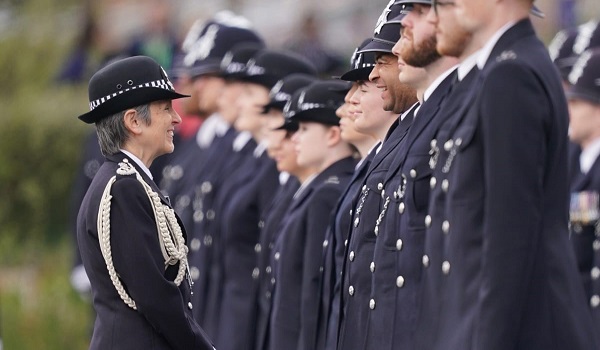 As of the end of March, the MPS had a head count of 34,542 officers. The force said it will continue to expand further throughout 2022 to 2023 as part of the Policing Uplift Programme.
It intends to have a total of 36,500 officers by March 2023, meaning it will need to recruit close to 4,000 officers – double the number of officers normally taken on.
The outgoing commissioner, Dame Cressida Dick, today (April 8) led her last passing out parade, reviewing 157 police constables and 25 detective constables.
Speaking after the parade, she said: "This is a very special time for the Met as we mark having the highest ever number of officers in our long history, and a very special day for me as my last passing out parade. I have always been honoured to attend these events and have the opportunity to celebrate the achievements of the recruits alongside their families and friends, and today is no exception. I was very proud of each and every one of them, and wish them all the very best for the future.
"As I end my time in the Met, I know that our newly recruited officers will learn from their many respected and experienced colleagues how to show the courage, professionalism and compassion that the public expect and rightly deserve; qualities we see officers from all roles and ranks display on a daily basis across our great capital city.
"We have committed to bold steps to build a workforce that truly reflects all of London's diverse communities that we serve, and are seeing positive results. The Met has truly made strides in this area, and I know in future it will not hesitate to adapt its approach when necessary in order to further these aims, as the decision regarding the London residency last month underlined.
"As we grow even further we will have thousands more officers. They will be out on your streets, providing more presence and protection, helping to reduce crime, bring even more offenders to justice and play a vital part as we continue to strive across all fronts to increase trust and confidence.
"I'd therefore like to take this opportunity to again encourage anyone who would relish serving London's communities and building an exciting, rewarding and challenging career. We know there are many people out there that want to help others – and I can testify from my own personal experience that there is no better way of making a difference than becoming a police officer. Your skills, your strengths and your varied experiences will help to create an even better Met police service in the future."
The Mayor of London, Sadiq Khan, said: "This is an extraordinary achievement and I'm really proud that we now have more police officers than at any other time in London's history. These new officers will help to build on the progress made in tackling violent crime, improve support for victims of crime and, crucially, help to restore trust and confidence, which is so vital to policing London's diverse neighbourhoods and communities by consent.
"The Met is currently recruiting, and I would encourage Londoners from all backgrounds to apply and be part of a bigger and better Met."
The force is also more diverse than ever with a total of 16.4 per cent of officers – 5,508 – from a black, Asian or mixed ethnic heritage, and 29.7 per cent – 9,956 – being female.
The MPS is working towards its aspiration for 21 per cent of its officers to be from black, Asian and mixed ethnic heritage groups by 2024 and 28 per cent by 2030.