MPS launches internship programme for young people
A group of south London teenagers have come together with police officers and staff from the Metropolitan Police Service (MPS) to take part in new internship-style programme that aims to encourage young people from under-represented communities to consider a career in policing.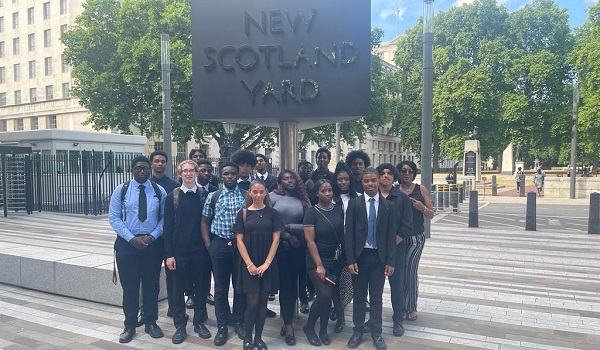 The 'Elevated Aspirations' programme involves ten weeks of special mentoring from top black professionals in the criminal justice field, two weeks of work experience across a wide range of different MPS units, and regular personal development coaching from professionals from that sector.
The cohort of 18 male and female teenagers, who are all aged 17 and in their first year in the sixth form at St Thomas the Apostle School and Sixth Form College in Nunhead, have just completed the work placements at the MPS that enabled them to gain a valuable insight into the varied experiences of different MPS officers and staff.
The whistle-stop tour of the organisation included sessions with firearms, forensics, the marine unit, the Territorial Support Group, Taskforce, custody and the 999 calls control centre. They also got the chance to handle specialist equipment, try on kit, take part in role-plays on stop and search, shadow detectives on an investigation, and visit the courts at the Old Bailey.
The programme is a joint initiative from the long-serving MPS schools officer Police Constable Nsikan Etuk, educational consultant Doreen Sinclair-McCollins and ex-MPS borough commander Victor Olisa.
In a statement, the MPS said the scheme aims to "contribute to enhanced public service, trust and confidence through generating legitimacy for the Met and finding new ways for it to engage with minority communities."
Sophie Linden, Deputy Mayor for Policing and Crime, was one of the speakers at the graduation event and said: "The Elevated Aspirations programme is a fantastic initiative that supports young people from Black and ethnic minority backgrounds to build a better future for themselves and their local communities.
"Through expert mentoring and work placements, this programme gives young Londoners first-hand experience of the unique challenges that comes with working in the police and provides career opportunities in the Met Police and beyond.
"It also helps build trust and confidence in the Met Police, which is crucial in ensuring all Londoners feel protected and served. It has never been more important for young people to be engaged with policing and programmes like this will help to make sure the Met truly reflects and represents the experiences and needs of all Londoners."
PC Etuk, who has worked as a MPS schools officer for 18 years and is based in Southwark, explained: "I wanted the youngsters to obtain a richer insight into the roles of the police through doing the programme, as well as to break down barriers and create more positive connections between officers and young people. At the start a small percentage of the group of 18 wanted to join but now over 90% expressed an interest in a future career with the Met, which is really encouraging."
Doreen Sinclair-McCollins, chief executive of Elevated Aspirations, said: "Elevated Aspirations aims to contribute to a culture change within the Met Police, build bridges and strengthen relationships between police and the young, under-represented community members taking part. We also hope it will be a step toward helping the Met meeting its recruitment aspirations to increase the percentage of BAME new recruits and to change 'generations of history' between police and black communities."