MPS Commissioner finds hidden scissors during community weapons sweep
A pair of scissors hidden near children's play equipment was discovered by Metropolitan Police Service (MPS) Commissioner Cressida Dick during a community weapons sweep in North London yesterday (October 16).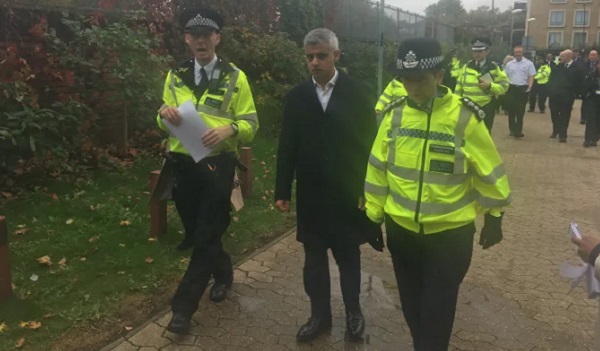 The event, organised by the MPS Camden police team, took place at St Paul's Church (Parish of St Pancras) and was designed to bring the community together to help tackle the recent spate of gang violence.
The sweep, which involved locating knives, drugs and other items hidden in and around public spaces, covered Camden Square before moving to the Maiden Lane Estate. A knife was found hidden near the park shortly before Ms Dick found the concealed scissors.
Ms Dick was joined by Mayor of London Sadiq Khan and pupils and teachers from Regent High School, local councillors, members of the Fire and Ambulance Services and representatives from Camden Against Violence.
Police Constable Jonathon Dunbar, who organised the community anti-violence event, said it had been a "real success", adding: "Any knife or weapon we find and seize means one less weapon on the street.
"The police cannot solve the violence issue alone. It is essential that we work with communities, charities and partner agencies to deal with this issue and the public want to feel empowered to play a key role in keeping their own neighbourhoods safe."
A/Inspector Dave Hodges said drug dealing and rival gang issues were behind a large proportion of the violence both in Camden and across London.
"When people say grooming, most people will think of online crime, but actually gangs and dealers are also grooming young people and it's an issue we all need to be aware of, especially parents, teachers and the children themselves," he said.
"The tactics they use are clever, and someone might not understand they are being used or 'groomed'. Basic signs like new trainers, phones or tracksuits could be an early indication that a child may be in the process of being groomed by criminal gangs.
"They are promised protection and then they are in the gang's debt and they end up carrying weapons or drugs on their behalf and find themselves in really risky situations. We want to stop this and protect young people before it gets to this stage.
"Information from the community is essential. Not just after events but before anything has happened. Details of who is possibly dealing drugs, exploiting children or carrying weapons – it will all help stop violence and tragedy."