Cleveland PCC admits historic police caution but will not stand down
A Labour MP has used parliamentary privilege to claim a police and crime commissioner (PCC) was "sacked" by a former employer for "systematic theft".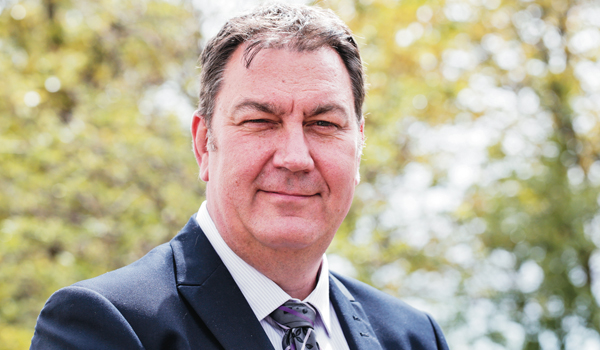 Andy McDonald, MP for Middlesbrough, made the allegation against Steve Turner, the Conservative PCC for Cleveland, during a Commons debate linked to the Elections Bill.
Parliamentary privilege enables MPs to say whatever they wish in the House of Commons without fear of being sued for defamation.
Mr McDonald, intervening on Shadow Cabinet Office minister Cat Smith, had told the Commons chamber: "On the topic of police and crime commissioner elections, is she as staggered as I am to learn that the Conservative Party's PCC for Cleveland, Steve Turner, who was elected earlier this year, was in fact sacked in the early 2000s for systematic theft of merchandise from his then employer, Safeway supermarket, at their Norton store?
"Does she agree with me that it's totally untenable for someone who is engaged in such criminal behaviour to hold the position of PCC and he must resign from his role with immediate effect?"
Ms Smith replied: "I am as staggered as my honourable friend to learn that the Conservative Party's police and crime commissioner for Cleveland was sacked for theft from a Safeway supermarket.
"And I'd certainly agree with him it is totally untenable for a criminal to hold the position of police and crime commissioner, and that if what my honourable friend has shared with the House is true then I would expect a resignation and a by-election for that police and crime commissioner with immediate effect."
Mr Turner took to social media to reply the allegations, posting an open letter on his Facebook page. He admitted receiving a police caution 22 years ago but said he was not dimissed from his position and instead tendered his resignation. He added that the caution did not prevent him from standing as a PCC. He described the incident as a 'stupid error'.
The open letter from Mr Turner said: "The last several hours have been amongst the hardest I have faced in my life as public allegations about a very private matter were made about me without any notice on the floor of the House of Commons by Andy McDonald MP.
"He made the declaration in Parliament when I was attending a civic awards ceremony in Middlesbrough with my family. It was deeply humiliating to sit there and to discover what had been said and to subsequently have to leave and deal with the matter late at night. Last night I issued a response to MP Andy McDonald's statement in Parliament, specifically that the allegations he made about me were inaccurate. Today I want to take the opportunity to provide further information and clarification.
"In the late 1990s, I accepted a police caution in relation to an event at a supermarket store where I was employed. I voluntarily tendered my resignation shortly afterwards, and to reiterate I was not 'sacked' from this position. This challenging life lesson is something that has remained private over the years, so as not to impact on my family and friends.
"I have diligently followed all the relevant rules governing the appointment of PCCs and can confirm that this historic incident is not something which disbarred me from standing (or remaining) as PCC and occurred over 22 years ago. In fact, the insight it provided me on how people can make stupid mistakes informs the way I operate as a PCC. Indeed, I invest a significant amount of money in the rehabilitation of people in this area of work as a result of my insight – people make mistakes and I made mine decades ago. Since that time, I continued to forge a successful career in the retail industry and worked hard for many local communities, as a parliamentary employee and now as a PCC.
"I trust that the people of Teesside place this minor incident which occurred in the last century in its proper context; a stupid error and they support me in getting on with the job to which I was elected in a landslide. My time as PCC is certainly not at an end. I am close to publishing my first Police and Crime Plan, which sets out ten key priorities to improve policing and community safety across Cleveland. My immediate priority is to drive forward our response to serious violence and it's impact on the lives of young people and their families.
"I'll make a number of announcements in the coming weeks on how I'm investing funds in local community-based projects to prevent young people being drawn into a world of violence and serious harm. Whilst it's important to reflect on past experiences good and bad, I remain focussed on the task at hand – how I can support Cleveland Police to improve and make our area a safer place to live and work."
Mr Turner swept to victory in May on the back of a promise to get tough on crime in Teesside.
His pledge to reduce anti-social behaviour, stamp out violent crime and end the blight of drugs in communities saw him receive more than half of the total first preference votes cast.
He replaced Lisa Oldroyd, who was acting Cleveland PCC, following the resignation of Labour's Barry Coppinger in September last year.