Most senior UK officer criticised for fleeing Westminster terror attack
It has emerged that the acting Metropolitan Police Service commissioner witnessed Police Constable Keith Palmer being murdered and fled the scene.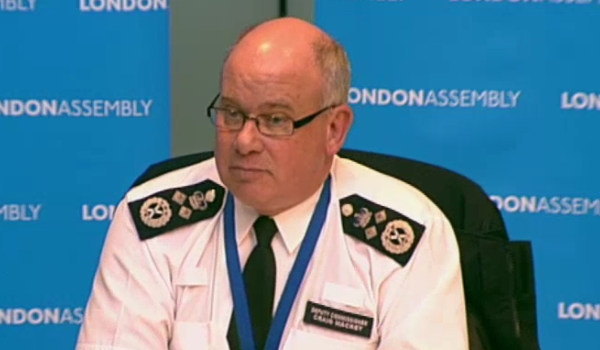 Sir Craig Mackey told the Westminster Bridge inquest that he did not get out of the car because he was in short sleeves, did not have any protective equipment and was told to leave by a police constable.
Sir Craig had been sat in Parliament Square on March 22, 2017 when Khalid Masood drove a rented car into pedestrians on Westminster Bridge, before attacking PC Palmer at the gates to the Houses of Parliament.
Sir Craig had just left a meeting with the then policing minister, Brandon Lewis and was accompanied in the MPS BMW by his chauffeur and chief of staff.
On hearing Masood's car collide with the walls of Parliament, the current MPS deputy commissioner said he feared there had been an explosion and when Masood entered Parliament Square, they locked the car doors.
Sir Craig said: "If anyone had got out, the way this Masood was looking, anyone who got in his way would have been a target."
He described seeing PC Palmer pursued by Masood before the terrorist struck "two determined stab wounds" into the officer's side.
He told the inquest at the Old Bailey that his first instinct was to get out of the car but "one of the PCs, quite rightfully, said: 'Get out, make safe, go, shut the door,' which he did, and it was the right thing to do.
"That's when I thought: 'I have got to start putting everything we need in place. We have got no protective equipment, no radio, I have got two colleagues with me who are quite distressed,' so we moved out."
CCTV shows that about 20 seconds after Mahmood was shot dead by close protection officers Sir Craig's car drove out of the gates to Parliament Square.
He has been vilified on social media for not attempting to assist.
The MPS apologised last week for failings in the protection of unarmed officers deployed at the Houses of Parliament. The inquest into PC Palmer's death heard how two armed officers were unaware of guidance issued in 2015 that said they should focus on the gates. At the time of the attack they were on the opposite side of Parliament Square and were too far away from the scene to intervene.
Chief Coroner Mark Lucraft QC said it was possible that the officer's murder could have been avoided if armed officers had been at the Carriage Gates when Masood attacked.
'Shortcomings in the security system' at New Palace Yard, including the supervision of armed officers, meant they were unaware they should have been on guard near the gates at the time of PC Palmer's murder on March 22 last year, he concluded.
Assistant Commissioner Neil Basu said: "Even the possibility that the Met lost the chance to prevent the murder of such a brave and courageous officer is unacceptable. "For the loss of that possibility to protect him from Khalid Masood, we are deeply sorry."
However, PC Palmer's family said they were unhappy with their treatment by the MPS during the inquests and said it appeared as if the organization had "closed ranks".
The latest revelation has caused further anger, with many commentators accusing the most senior officer in the country at the time of lack of leadership and cowardice.
Social media users were highly critical and questioned whether he should be stripped of his knighthood.
Former MPS officer @Gallifrey1980 tweeted: "I'm now wondering when Craig Mackey I refuse to call him Sir, as in the circumstances it's clearly unearned and undeserved, will be investigated for neglect of duty and misconduct in a public office after his admission that he failed to assist PC Keith Palmer. #coward."
Academic in Islamic terrorism, Dr Paul Stott, said: "After many terrorist attacks, admiration has (rightly) been expressed for those who run towards the violence, whilst the public seeks safety. Sir Craig Mackey, it seems, is the exception."
Another former MPS officer of 30 years, Alan Wright, wrote: "Today's headlines have just stunned me into (almost) silence and left me ashamed that I was ever a member of the same organisation"
And Mike Weavers added: "Have thought long and hard about Acting Commissioner #CraigMackey actions. Still cannot get away from fact that he was the most senior leader in the #Met and chose to drive away from his men when they were in desperate need. Abject failure of leadership that cannot be excused."
Others were supportive of Sir Craig, who is due to retire in December.
Former Chief Superintendent John Sutherland, widely known on social media as @policecommander and the author of Blue: A memoir – a story about his experiences of mental ill health within policing, said: "I can't account for what Craig Mackey did or didn't do on that dreadful day. I wasn't there… But I do know that, when I was very seriously ill, he was the first senior officer to come and visit me. My own experience is of a kind and decent man."