Mortar find foils attack on police officers by dissident republicans
The discovery of a horizontal mortar tube and command wire in County Down is believed to have foiled an attack by dissident replications on police officers, according to the chair of the Police Federation of Northern Ireland (PFNI).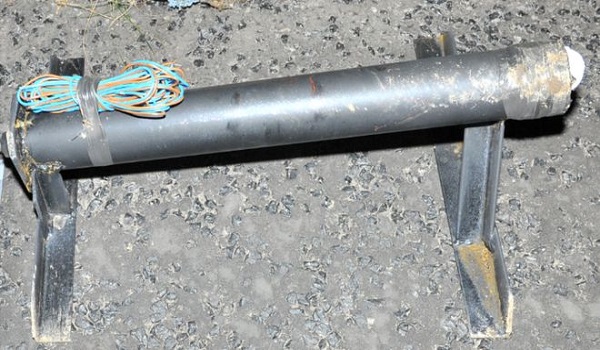 PFNI chair Mark Lindsay condemned those who had left the items where they could also have endangered the lives of passers-by. "What this shows is the need for constant vigilance. We cannot relax our guard in the face of a determined dissident republican threat to officers and, indeed, the wider community. 
"I have no doubt but that this was intended for officers out doing their best for the entire community. This is yet another demonstration of the bankrupt nature of those who seek to inflict pain and suffering on the community," he said.  
"The terrorists don't care who they hurt, and I would appeal to anyone with information about those who were planning to carry out an attack to contact the PSNI. We have to put these mindless individuals behind bars. Only through the all-out support of the community will we be able to rid Northern Ireland of these murderous gangs." 
A spokesperson for the Police Service of Northern Ireland (PSNI) said the tube contained no explosive device and it was likely to be collected for use elsewhere. The discovery prompted a major security operation in the area. 
PSNI Detective Superintendent John McVea said it was likely the tube was left by one dissident for collection by another. It had not been left in a position that suggested it was about to be used to launch a mortar at a passing car on the road. 
"There is a derelict farm building in the immediate vicinity. The device, the mortar tube, was left just by the wall. It was not covered in any way. It was in very good condition and there were no signs it had been left to the elements for any length of time and certainly we are working on the theory that it was left there in very recent times." 
"We are very pleased to have this item recovered – undoubtedly it was in the future intended to be used in an attack against the security forces," he said. 
News of the find coincided with the release of a statement by PSNI Chief Constable George Hamilton that, despite a recent increase in funding, the service does not have enough money available to carry out all its necessary duties.   
Mr Hamilton said: "PSNI's budget for 2019/20 has now been confirmed by the Department of Justice and provides for an £11 million increase on the previous year's opening resource budget to assist with pressures. Although this additional funding is welcome, it falls short of what is required simply to maintain existing service levels.   
"The service will be commencing the financial year over committed by £5.2 million and also facing significant cost pressures in the coming year including rising Injury on Duty Awards, Legacy-related costs and other inflationary pressures.  
Mr Hamilton also highlighted the issues caused by sickness and duty restrictions. A total of 839 officers are currently on restricted duties and the cost of their absence has been put at £26.5 million a year. 
A new system, which significantly reduces the length of time that an individual can be off on sickness absence before the line manager is prompted to take action, was introduced to PSNI in February.  
The Northern Ireland Policing Board (NIPB) has just published its Policing Plan, setting out the strategic outcomes for policing in 2019/20. It is designed to improve confidence in policing and quality of service to the public.  
NIPB chair Anne Connolly said: "The PSNI face many key challenges, particularly with regard to their budget and their ability to plan ahead and invest in the future effectiveness and efficiency of the organisation. 
"It is therefore important, now more than ever, that the PSNI collaborates with key delivery partners to use collective knowledge, expertise and resources to build confidence in policing and protect and support vulnerable people in our community."