More than 213,000 children in England at risk of serious violence
More than 213,000 children in England aged 11 to 17 are at risk of being "dragged into serious violence", according to research from crime and justice consultancy Crest Advisory.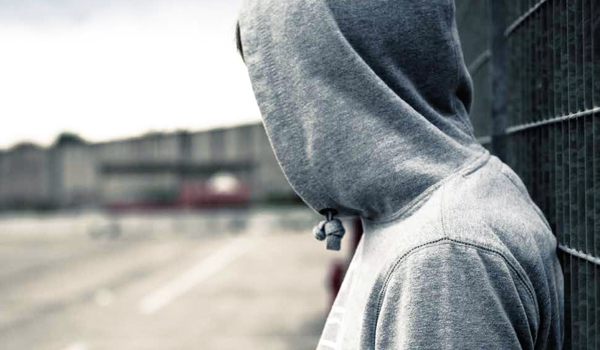 Almost 40 per cent of those at risk live in ten local authorities, with proportionately more in Middlesbrough, Manchester and northeast Lincolnshire than anywhere else.
The findings are contained in a report, Violence and Vulnerability, published on Friday (February 5), which also highlights an innovative way of mapping connections between young people who may be involved in violence.
The technique, known as 'Social Network Analysis' (SNA), shows the links between 57 young people and the violent incidents they witnessed or were involved in, as well as where they go to school.
Harvey Redgrave, chief executive of Crest Advisory, said: "Today's report reveals in stark terms why tackling serious violence cannot be seen as purely about policing. A growth in the number of vulnerable young children provides a ready supply of individuals at higher risk of being dragged into violence, whether as perpetrators or victims. Government needs to focus on doing more to intervene early to tackle the root causes of violence, rather than simply reacting to its consequences."
The report, funded by the Dawes Trust, found evidence of a shift towards younger offenders and victims of violence and produced an estimate for the number of children who live in areas with high levels of crime and families on low incomes, making them among the most vulnerable.
Analysts discovered there were 213,403 children in both categories, five per cent of the population of 11 to 17 year olds in England.
It is believed to be the first time that such an estimate has been made using crime and income data and exploring geographical variations.
The ten local authorities with the highest proportion of children at risk of serious violence were all in the north of England, and predominantly in urban areas:
Middlesbrough – 4,335 at risk (37 per cent of 11 to 17 year olds in the area);
Manchester – 15,302 (36 per cent);
Northeast Lincolnshire, which includes Grimsby – 3,751 (29 per cent);
Blackpool – 3,046 (28 per cent);
Kingston-upon-Hull – 5,377 (27 per cent);
Hartlepool – 2,017 (26 per cent);
Liverpool – 7,445 (22 per cent);
Leeds – 13,215 (22 per cent);
Newcastle-upon-Tyne – 4,369 (21 per cent); and
Rochdale – 3,804 (19 per cent).
The areas with the lowest proportion of children at risk of serious violence included Bournemouth, Christchurch and Poole in Dorset; and Wandsworth in southwest London.
Mr Redgrave said: "While only a small minority of young people are directly bound up in violence, our research shows many more are potentially at risk, many of them living in some of our most deprived communities in the country."
SNA is often undertaken by police to provide information about the reach and nature of organised crime groups, but was deployed by Crest analysts from data provided by a London youth offending team.
The analysts were given anonymised details about victims, witnesses and offenders involved in 18 serious incidents, including two murders and ten stabbings, and then mapped the connections, along with links to schools, colleges and young offender institutions.
Crest believes SNA could help teachers, social workers and safeguarding officers identify young people who may be at risk of violence and take action early to prevent it happening.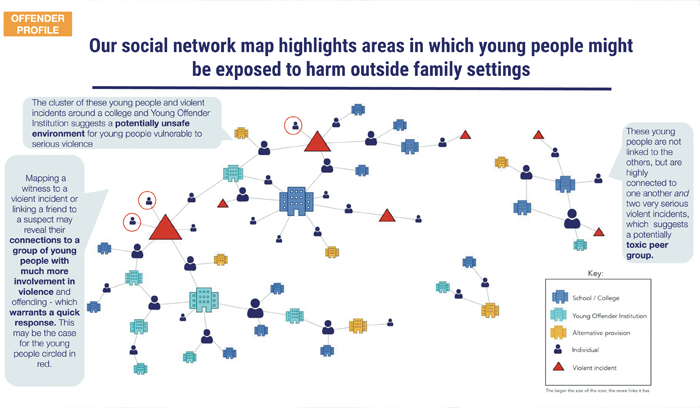 Professor Simon Harding, from the University of West London, who has written extensively about street gangs, described the SNA technique as "worthy of more scrutiny and possible investment".
He said: "This is an interesting and valuable addition to the report. It usefully illustrates the tight grouping of peer networks while evidencing the links to colleges and schooling."
Professor Harding added that such analysis made it easier to identify "pivotal individual and harmful networks", particularly when it was used together with other up-to-date information, including from social media.
John Sutherland, a former Metropolitan Police Service chief superintendent and author of two highly-acclaimed books on policing, said: "Violence involving children and young people represents one of the most significant and urgent challenges of our times. But we need to better understand it if we are to have any chance of responding to it effectively."
He added: "I very much hope that this research and analysis from Crest Advisory will assist in developing that understanding – and in finding real and lasting solutions."