More than 1,000 domestic abuse reports made via Essex Police video tool
More than 1,000 reports from victims have been taken over video call by specially-trained officers at Essex Police since March 2023, providing stronger evidence for cases of domestic abuse.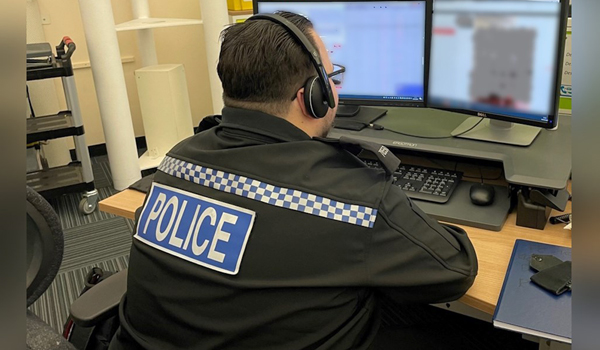 The process, called Rapid Video Response (RVR), is a victim-focused investigative tool which provides another way for domestic abuse victims to report an incident – without having to come to a police station or have officers visit their home in a marked police car.
The force said victims supported by the team have said they appreciated having someone to speak to so quickly, not being rushed on the call, and having the option to speak at home without attending a police station, which can often feel intimidating.
One person who reported their incident through RVR said: "If it hadn't been for this service, I may not have had the confidence and courage to say what I wanted to as I was reporting historic abuse and it had taken me a long time to speak to anyone.
"Because I was spoken to so quickly and it was dealt with all in the same day, I felt confident and listened to."
Call handlers first make sure a victim is safe to engage with the RVR team via video call and that no suspect is present at their property.
Then, the RVR coordinator checks they are able to carry out the call via a link that can be sent to the caller's device.
Victims can speak to a specialist member of the RVR Team who can take details such as the victim's account of the incident, provide safeguarding advice or make safeguarding referrals, and remotely collect evidence such as screenshots or photos of injuries; and
create an investigation using the information collected.
Essex Police said this process means there is an officer in contact with a caller from start to finish, and evidence can be collected as quickly as possible after an incident to begin an investigation.
"The faster we can gather evidence, the stronger it is when used to prosecute suspects of domestic abuse," the force said.
Sergeant Robb Gifford of the RVR Team said: "The service we offer in the team is focused on supporting victims of domestic abuse in their time of need.
"We have a team of police officers that are dedicated to dealing with domestic abuse incidents and have been trained to provide appropriate support and advice.
"Victims opting to use this service can be put through to a police officer on our team immediately and from the comfort of their own home or place of safety through a video consultation.
"The process is easy to navigate, does not require the victim to install any apps or software, and they will have the undivided attention of an officer who is there to listen, support and record any details required."