More than 100 officers assaulted every day
There were 36,969 assaults on police officers in England and Wales over the past year – an annual rise of more than 20 per cent and the equivalent of 101 officers being assaulted every day.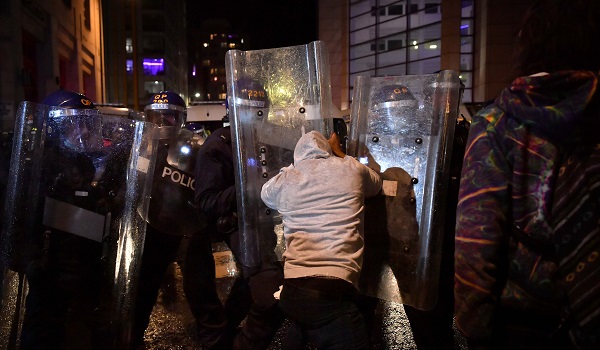 A total of 11,235 police officers in England and Wales were left injured as a result of these assaults, government statistics show. That is 30 injuries to police officers every single day of the year.
Ken Marsh, chair of the Metropolitan Police Federation, said: "These figures are appalling and should cause fury among every right-minded member of the public.
"These figures cover the last financial year so the pandemic and the numerous lockdowns that we were asked to enforce. The statistics starkly show that courageous police officers have been on the front line keeping people safe, risking their health and safety to do so… and then the Government thanks them by offering no pay rise for their efforts.
"How can this be right or fair? Every one of those assaulted and injured police officers will be wondering today why the Government has let them down so badly. What an appalling way to treat the men and women who have risked everything to police the last 18 months.
"Our colleagues can't keep being treated like this. Warm words and platitudes about our bravery mean nothing. Police officers have given everything. Yet again, the Government has given us nothing."
In London, 6,419 officers from the Metropolitan Police Service were assaulted in the past year.
Mr Marsh added: "The shocking statistics highlight the daily dangers our colleagues sadly face – there is no such thing as a routine call or a routine job.
"We must also remember that behind ever assault number is a human being – mothers, fathers, husbands, wives and partners and sons and daughters. We have said it before and we say it again: Police officers should be going home to their families at the end of their shifts. Not to hospital.
"Our hard-working colleagues deserve the greatest of protection. We also need to see the backing of the courts in implementing these sentences as a strong deterrent. And it needs to be done consistently."
The latest figures were published shortly after the results of a Freedom of Information Request by the Daily Express, which found a substantial rise in assaults on officers since the start of the pandemic.
In Avon and Somerset, 1,236 staff were attacked at a cost of 229 working days. Broken bones meant 54 days lost, facial injuries cost 38, concussion accounted for 31 days and in 26 cases assaulted officers then tested posted for Covid.
Devon and Cornwall had 1,063 staff attacked, with 100 days lost ‑ 50 of them to a single officer. More than 1,000 officers were assaulted in the West Midlands.
Government figures show that, in Essex, some 588 officers have been attacked on duty since the beginning of this year and of those 138 have been assaulted more than once.
In 2020, a total of 868 officers were assaulted while on duty and in 2019 a total of 774 attacks on officers took place.
Essex Police Chief Constable BJ Harrington said: "Since I became chief constable of Essex Police in 2018, I have seen some of my officers: stabbed, doused in petrol with a baying mob calling for them to be set on fire, run over, kicked, stamped on, punched, spat at, threatened.
"And the sad reality is that here, in Essex, we are not the exception, we are the rule.
"When we lose a colleague, as in the tragic case of PC Andrew Harper, it affects the policing family deeply.
"I still remember, like it was yesterday, the night 30 years ago when, as a young probationer constable, I was one of the first officers to arrive on scene where my sergeant had been fatally stabbed – that memory will never leave me or any of the team on duty that night. We must make sure no police officer death is ever in vain and those who take their lives pay by losing their liberty for life.
"We wrap excellent welfare around those who are assaulted (and their colleagues who have to witness and investigate it) and we do all we can to bring those responsible to justice.
"But I would be lying if I said that it doesn't leave a lasting impact on officers and their families – it does, I don't doubt many officers are anxious when they pick up their warrant card and many families dread the knock on the door.
"I would also be lying if I said that the growing level of attacks and violence against police is not a constant worry – it is.
"I would also be disingenuous if I said that I am not concerned that this will cause a knock-on for police recruitment – it may well do, particularly against the backdrop of another freeze on police pay which is a bitter pill to swallow.
Essex police, fire and crime commissioner Roger Hirst said: "This increase of assaults on our police officers saddens me and we really must do more as a society to protect those who protect us."
Responding to the stark figures, Police Federation of England and Wales national chair John Apter commented: "Throughout the pandemic we have witnessed police officers being subjected to a disgusting level of violence. We now have the figures to prove just how dire the situation has been for my colleagues on the ground.
"More than 100 of my colleagues are assaulted every single day, that's a staggering number and something society must not accept. Many of these recorded attacks involve vile individuals who have spat on or coughed at police officers, weaponising the virus and threatening to spread it to them and their families.
"The sentencing guidelines have been changed and I would urge judges and magistrates to use these powers to set an example to those who are assaulting our colleagues, those responsible must spend time in prison. This unjustified violence is a stain on society and needs to be dealt with robustly."