MoD officer who saved a life wins Defence Police Federation Award
A Ministry of Defence (MoD) Police officer who courageously stepped forward to save the life of a man who wanted to jump off a bridge has won a Defence Police Federation Award.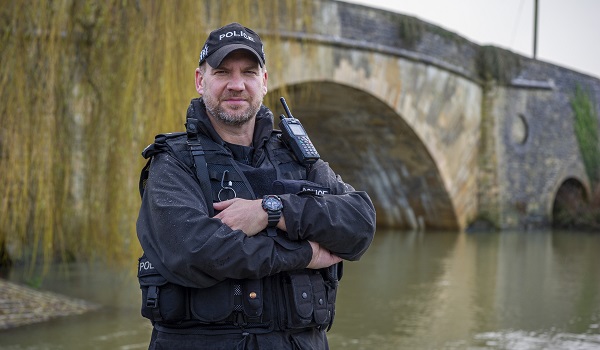 Police Constable Calvin Fuller, who is based at RAF Fairford in Gloucestershire, showed "calmness, exceptional communication skills and professionalism" to provide a positive outcome to a precarious situation during the incident in July 2019.
He now joins colleagues from across Britain in becoming winners at the first ever Defence Police Federation Awards – in the Excellence category.
It was in the early hours of the morning when PC Fuller picked up a call from Gloucestershire Police asking for MoD Police help to deal with reports of a man threatening to throw himself into water from a high bridge. PC Fuller responded to the 3am incident at Lechlade as Gloucestershire Police colleagues were 45 minutes away from the scene.
Having quickly cleared his deployment with his sergeant, PC Fuller and a colleague arrived at a 70ft high bridge to see a clearly agitated. He was threatening to jump if the officers approached any closer.
PC Fuller received details that the man had attempted a similar suicide attempt two years previously and been severely injured in the fall, so he knew he had to take his threats to jump extremely seriously. Police negotiators were an hour away, so PC Fuller began to talk to the man using his first name and using the man's first name to try and establish rapport.
PC Fuller sought to reassure the man and told him he would not come any closer if that's what he wanted. The man engaged with PC Fuller enough to explain he was depressed as he had lost his father, had split up from his partner and had lost his job as a roofer due to his injuries.
He told PC Fuller it would be better for him to be dead, but the officer reassured him that was not the case and talked to him about his family so he could perhaps understand the grave consequences making good his threats to jump would have.
He also explained the full range of services available to help the man and told that they had improved after the man complained they had not helped him in the past.
Gloucestershire Police colleagues were on the way at this stage but with the negotiator still 45 minutes away PC Fuller turned his attention to getting the man to move to the safe side of the bridge.
After chatting to the man for nearly 40 minutes, PC Fuller managed to calm him down sufficiently that he lit a cigarette. PC Fuller said that he was cold and used this as leverage to persuade the man to come off the bridge and warm up. He agreed, and PC Fuller got him safely off the bridge and into the care of Gloucestershire Police.
In his post-incident statement, PC Fuller said the incident had been incredibly emotionally draining but that he had been pleased to help the local community and that it sent out a message MoD Police officers are willing to help to preserve life and be a valuable asset to communities.
"It was about keeping him calm," PC Fuller said. "Don't do anything that's going to agitate him … you've got to be very neutral. There's one thing I've found, if you start saying, 'No, that isn't the case. No, you're wrong', all of a sudden a barrier comes back up. So it's just about getting that dialogue open and keeping it. I don't mind talking!"
Speaking about being nominated for the Defence Police Federation Awards, PC Fuller added: "I was quite surprised. We work really well with Gloucestershire Police. Obviously, we've got our remit with the Gold Strategy where it has to be life and limb, it has to be immediate, it has to be somewhere we can get to quite quickly. I think luckily this ticked all the boxes."
MoD Police RAF Fairford Inspector Matthew Stagg said PC Fuller had shown 'exceptional' calmness.  "PC Fuller was confronted with a real situation that had real life-ending consequences. By taking responsibility for the situation, displaying calmness, exceptional communication skills and professionalism, he prevented an outcome that would have a detrimental impact on many people.
"His efforts are commendable and made all the more remarkable when considering he is not trained as a negotiator."
Defence Police Federation chair Eamon Keating said PC Fuller had shown real professionalism in saving the man's life. "He took control of the situation right from the start and built up an incredibly quick and honest rapport with him," he said.
"In doing so, he saved the man's life, no question. He showed great professionalism and dedication throughout a very challenging incident, and all of us at the Defence Police Federation are very proud of him. He's a very worthy recipient of an Excellence Award."
PC Fuller will attend an awards ceremony in Southampton on November 17 where he will receive his accolade.
The awards are sponsored by Serve and Protect Credit Union, Uniform Mortgages, Axon, No 1 CopperPot Credit Union, Niche Technology, KM Law, Blackfords and Police Mutual.