Missing RAF gunner Corrie McKeague inquiry passed to cold-case team but remains 'open'
Detectives investigating arguably the biggest missing adult search in UK law enforcement history are standing down the case after admitting it has reached a "natural conclusion".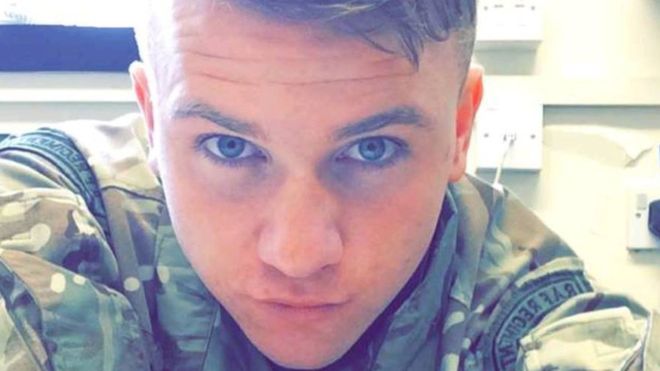 As no trace of airman Corrie McKeague has been found since his disappearance 18 months ago Suffolk Constabulary has confirmed a cold case team will take on the task of handling all "credible new information" – while the inquiry will remain open.
The RAF gunner was last seen in Bury St Edmunds, Suffolk, after a night out with friends on September 24, 2016. It is thought he may have climbed into a waste bin that was then taken away by a refuse lorry.
His father, Martin McKeague, is reportedly fearful that he may have killed himself after learning he was to become a parent himself. The force says there is nothing to suggest any foul play or third-party involvement but a 'mature assessment' of all the evidence still points to Corrie being transported from the 'horseshoe' area in a bin lorry and ultimately taken to the Milton landfill site in Cambridgeshire.
Detective Superintendent Katie Elliott said: "Since Corrie disappeared, police have been exploring all proportionate and relevant lines of inquiry.
"We have now reached a point where we are unable to make any further progress and have gone as far as we realistically can with the information we have.
"If any new, credible and proportionate inquiries relating to Corrie's disappearance emerge, we will pursue them."
The senior supervising officer said it is "extremely disappointing" the inquiry team had not been able to find Mr McKeague.
She added: "I can only imagine the strain Corrie's family have been under over the past 18 months and I thank them for their patience and understanding.
"While the investigation has drawn to a natural conclusion, we will continue to work with the family to provide answers to their questions and help them understand what may have happened.
Assistant Chief Constable Simon Megicks said: "Saddened as I am that we have not found Corrie, I have absolute confidence in the way the investigation was conducted.
"The major investigation team inquiry has been reviewed at various points by senior officers within the constabulary and external experts, including the East Midlands Special Operations Unit."
The unit's report concluded the force had conducted a "thorough and detailed" investigation, and explored all reasonable lines of enquiry. It also endorsed the primary hypothesis that Mr McKeague ended up in the waste disposal process."
The ramifications of Corrie McKeague's disappearance – in the shape of Operation Phonetic – reached the walls of Westminster.
Waveney MP Peter Aldous has called on the Government to reimburse the force for the inquiry.
He urged the Home Office – which confirmed to Police Professional it is considering a request from Suffolk police and crime commissioner Tim Passmore to cover £1.3 million of the total £2.1 million bill – to "process this refunding application as soon as practicably possible".
The search for the 23-year-old, who was based at RAF Honington, has ended up testing officers to the limit of their physical and psychological ability, with his family praising the "unwavering" lengths of force support that went "beyond reasonable levels".
The landfill site in Milton was searched twice over a 28-week period, which included scouring 8,800 tonnes of waste for Mr McKeague's remains – consisting of a ten-man team at any one time.
Det Supt Elliott said the officers carrying out the search "worked extremely hard in difficult circumstances – with the nature of the waste being searched through, safety considerations, the extremes in weather and the depth of the search required presenting a number of daily challenges".
In total, officers have spent 34,000 hours on the investigation – not including police staff time or overtime.
Other statistics include more than 1,500 people have been spoken to during inquiry; more than 2,000 hours of CCTV have been looked at; and a total of 529 statements taken.
Up to November 2017, 5,600 hours of overtime had been worked on the case, amounting to £235,000.
The overall £2.1 million costs are comparable with missing youngster April Jones but some way behind the £11 million spent on the ongoing inquiry for Madeleine McCann – the three-year-old who went missing in Portugal in May 2007.
Darren Harris, chair of the Suffolk Police Federation told Police Professional last month: "As far as I am aware it is unique for a missing adult, not only for Suffolk but for all police forces in England and Wales.
"It is also an exceptional inquiry for a missing person, not least for carrying out a 28-week landfill tip search in varying conditions which ran through from the summer into the winter months."