Metal detecting wands rolled out to help tackle knife crime
Merseyside Police is equipping frontline officers with metal detecting wands to help target knife crime and seize concealed weapons.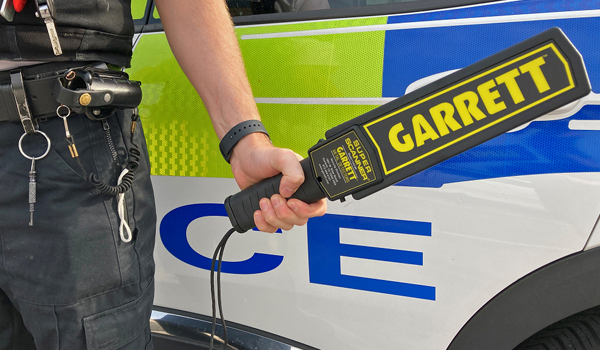 The metal detecting wands will be used to support stop and search powers and act as a deterrent to carrying a knife.
In total, 140 handheld metal detectors have been distributed to teams in Response and Resolution, Targeted Patrols and the Matrix Road Policing Unit. They have been funded by the force through Operation Target – its force wide operation to tackle serious and violent crime.
It forms part of the force's approach to prevention, which focuses on reducing crime and harm across Merseyside and taking weapons off the streets.
Merseyside has seen a 13 per cent reduction in knife crime and a nine per cent reduction in serious violence during the financial year to date, together with further reductions in the previous year.
Serious violence in 'hotspot' areas has also fallen, with a 25 per cent reduction in serious violent crime compared with the same period in 2022.
In the past 12 months, Merseyside Police has made 229 arrests for possession of a knife or bladed article offences and seized 1,088 knives.
The force said the wands will not replace the requirement for a physical search but will be used as a screening device available to officers already conducting a lawful and justified physical search of a person following their arrest.
Chief Inspector Colin Dyer, Response and Resolution, said: "This significant investment sees 140 metal detecting wands placed in our response vehicles.
"The wands will support stop and search powers and act as a deterrent to anyone who might carry a knife. We are committed to keeping communities safe and using all the tools in our arsenal to get weapons off our streets."
Superintendent Phil Mullally, lead for serious violence and knife crime, added: "There are no circumstances where carrying a knife as a weapon is acceptable. The use of the metal detecting wands are part of our wider work to tackle knife crime and make it more difficult for people to conceal and use weapons in Merseyside.
"I want to reassure the public that tackling knife crime is a key priority and while both serious violence and knife crime are falling in Merseyside, our work remains ongoing.
"The use of these wands, alongside Serious Violence Reduction Orders, weapons sweeps, open land searches and the important work of the Violence Reduction Partnership are driving down knife crime and educating people about the dangers of carrying a knife."