MPS federation brands Government response to pandemic as 'wishy-washy'
The Metropolitan Police Federation (MPF) has criticised the Government for sending mixed messages to the public during the pandemic, describing its response to the crisis as 'wishy-washy".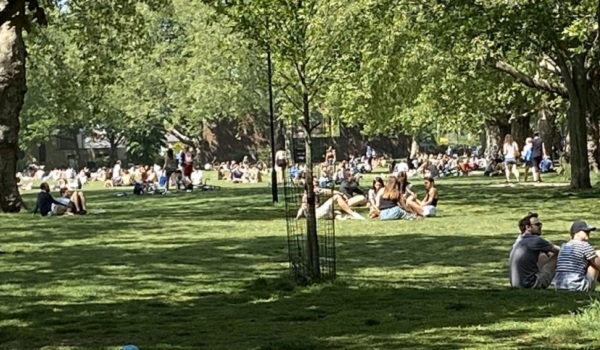 The criticism came amid growing concerns that the public is becoming increasingly complacent about the lockdown with analysis of traffic and mobile phone data showing a sharp increase in the number of people leaving their homes.
Ken Marsh, chair of the MPF, said the authorities should have been "firmer right from the beginning".
He told BBC Radio Four: "It's been quite wishy-washy how we've gone about it. Had we been very stringent from the off – it is painful, but it's not overly painful in terms of what you're actually being asked to do – then I think we would have a better result now."
His comments were echoed by David Hamilton, chair of the Scottish Police Federation, who said the lack of clarity had the potential to lead to a public backlash.
"The risk for policing is now approaching 'red'. Mixed messaging, fudging, pandering and contradictions all causing a perfect storm," said Mr Hamilton. "While the vast majority of people are behaving responsibly, more movement, more economic activity etc shows that the strict adherence to regulations and guidance is slipping. Things that didn't happen two weeks ago are now.
"If regulations aren't credible and in tune with where the public is at then they are harder to enforce. So we now need clear unambiguous messaging, we need regulations that are consistent."
Professor Stephen Powis, national medical director of NHS England, said "there was a little bit of concern" after the unseasonably warm weather drew big crowds to public spaces on Saturday.
Forces across the country reported a significant increase in the numbers found to be breaching regulations.
Officers from the Metropolitan Police Service based in Hackney, East London, said they were "fighting a losing battle" as hundreds flocked to parks to enjoy the Bank Holiday sunshine despite coronavirus restrictions and social distancing regulations remaining in place.
The officers posted a picture of one park packed with groups sitting on the grass, noting that there were "literally hundreds of people sitting having pizza, beers, wines".
Officers from the Roads Policing Unit of Derbyshire Constabulary tweeted: "Quite a lot of non-essential journeys today. We aren't the fun police but looking at Twitter it feels like a growing minority are risking undoing all the good work previously done."
West Mercia Police reported finding 40 people gathered around a dangerous quarry pool in Stourport known locally as the "Blue Lagoon", despite it being heavily fenced off with barbed wire.
"Apparently, it is not clear that people are not allowed in…" the officers Tweeted. "It beggars belief that we encountered two families who had taken their babies over the rugged, filthy and dangerous terrain."
Kent Police said its officers had engaged with and moved on roughly 850 people in breach of lockdown regulations across beaches on the Isle of Thanet.
Despite pleas for the public to stay away from the area over the weekend, North Yorkshire Police has reported that 50 per cent of all fines issued for lockdown breaches have been handed to tourists visiting from outside the area.
The Coastguard reported a 30 per cent increase in call-outs compared to the average for this time of year.
Under current legislation, people are only supposed to leave their homes for work, food, exercise or health reasons and must maintain the two-metre social distancing rule when they are outside of the house.
In a public statement  delivered at 7pm on Sunday (May 10) Prime Minister Boris Johnson outlined a "roadmap" on the lifting of certain coronavirus restrictions, along with a "modest" easing of lockdown measures which included encouraging those in construction and manufacturing back to work and allowing people to have unlimited amount of outdoor exercise.
Responding to the announcement, John Apter, national chair of the Police Federation of England and Wales, said: "The Government has, as expected, made a decision to relax its lockdown guidance in England. This comes following a week of mixed messages and the release of some information which, fuelled by media speculation, meant many people acted as though the lockdown had already ended. This is putting extreme pressure on my colleagues who are on the front line trying to enforce legislation in these most challenging of times.
"What we need from the Prime Minister and the Government now is clear and unambiguous messaging and guidance, explaining what exactly is expected of the public, so that my colleagues can do their level best to police it.
"Police officers will continue to do their best, but their work must be based on crystal clear guidance, not loose rules that are left open to interpretation – because that will be grossly unfair on officers whose job is already challenging. If the message of what is expected of the public is not clear then it will make the job of policing this legislation almost impossible."
National Police Chiefs' Council chair Martin Hewitt said: "As restrictions and regulations change so does the police role. As more details become clear, working closely with the College of Policing and the Home Office, we will review our current guidance, which supports officers and staff in policing the public health regulations. The core British principle of policing by consent will continue to be at the heart of our approach."
Paul Griffiths, president of the Police  Superintendents' Association, said his message to the Government has not changed: "We need clear and consistent communication with both the public and the police, so that society as a whole understands how this will work. It is also essential that all sectors play their role in ensuring social distancing, as this cannot fall to policing alone.
"Our service has once again been shown as responsive and resilient throughout this crisis, despite the significant challenges it has faced. The vast majority of the public have worked with us and the efforts and achievements of our workforce have repeatedly been praised at the highest level.
"We will continue to work with the government and other key police stakeholders, as the law for England is amended this week, to ensure our officers and staff have a clear understanding and expectation of their role as we enter a new phase of restrictions. Police should rightly feel proud of everything they have done to help save lives – our efforts will continue to be vital in getting us through this national emergency."
Chair of British Transport Police Federation, Nigel Goodband ,  said its members would play a "crucial role" in enabling those people who have no choice but to use public transport to return to work.
"There is a delicate balance to be struck between helping people travel to work and doing what we can to prevent the virus from spreading; the longer the pandemic continues the more challenging it is to police," he added.
"We understand detailed guidance will be issued by the Government on Monday (May 11). It's critical that this clarifies what is expected of our colleagues because at the moment we don't feel it's clear.
"We would encourage everyone who is travelling to work to think about their own safety and the safety of others. The message remains that if you can avoid using public transport please do so."