Membership of Serious Violence Taskforce revealed
Police, Ministers, MPs and local government will come together in a new taskforce to tackle violent crime.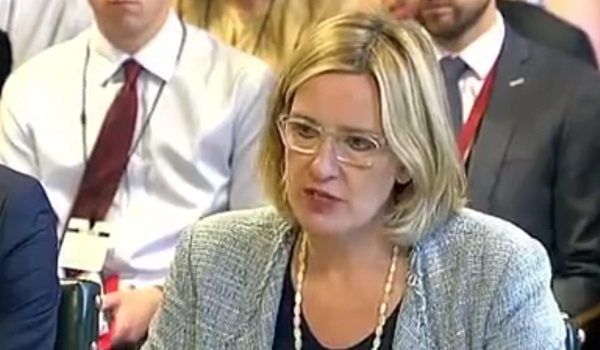 Home Secretary Amber Rudd has announced a new coalition to help stop the recent rise in serious violence on UK streets.
The group, known as the 'Serious Violence Taskforce', will also hold the Government to account and help shape its Serious Violence Strategy.
Its membership will include London Mayor Sadiq Khan as well as Metropolitan Police Service Commissioner Cressida Dick, Lynne Owens, director-general of the National Crime Agency, and Policing and Fire Minister Nick Hurd.
Ms Rudd said: "Together, we will seek to prevent serious violence from happening in the first place and ensure the measures that I set out when I launched the strategy are delivered.
"Everyone joining the taskforce is committed to ending the serious violence blighting our communities and I look forward to working together in the weeks and months ahead."
The taskforce was one of 60 measures announced in the Serious Violence Strategy, which was first published earlier this month.
The £40 million strategy will explore new partnerships to help support vulnerable young people, and focus on early intervention and tougher law enforcement.
The developments followed a series of violent stabbings in the capital since the start of 2018.
The taskforce will be chaired by Ms Rudd, with other ministers on the group including Mr Hurd as well as Crime and Safeguarding Minister Victoria Atkins and Children and Families Minister Nadhim Zahawi.
MPs David Lammy, Chuka Umunna and Iain Duncan Smith will also contribute to the group's work.
Members from policing include Ms Dick and Deputy Assistant Commissioner Duncan Ball from the National Police Chiefs' Council.
David Lloyd, chair of the Association of Police and Crime Commissioners (APCC), has also been appointed, as has Children's Commissioner Anne Longfield.
The taskforce will also be joined by chief executives of charities including the Ben Kinsella Trust, Onside Youth Zones, Catch 22 and Redthread.
Responding to the announcement, Mr Lloyd said: "In order to address the root causes behind violent crime, there needs to be a balanced approach and a clear recognition that this task cannot be left to policing alone.
"Police and crime commissioners have a strong record of working closely with local partners in health, education, local government, businesses and charities, to meet the public's priorities in policing and crime.
"There is a real breadth of expertise in the taskforce's membership and as APCC chair I will be doing everything I can to tackle the recent growth in violent crime and make our communities safer."