Man claiming to have had Covid-19 jailed after coughing at officers
A man who claimed to have had Covid-19 has been jailed after coughing at Derbyshire Constabulary officers.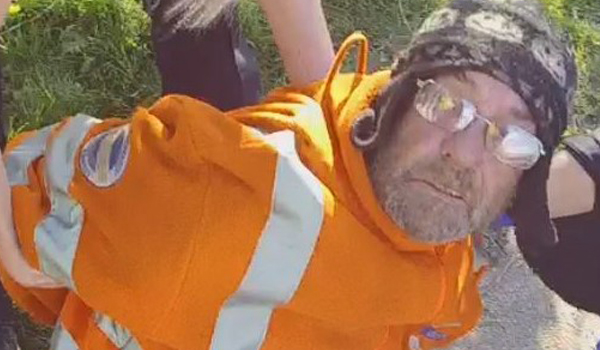 The incident happened at around 3.30pm last Thursday (April 2), when the officers were called to a canal path in Swarkestone, South Derbyshire, following reports from members of the public that a man was being abusive and threatening.
When the officers arrived, they found a man carrying a 2ft piece of wood and waving it above his head in a threatening manner.
He was arrested and the piece of wood taken off him. When the officers spoke to the man and asked if he was, or had been, suffering from the virus, he replied: "I've already had it, I've got over it and now I am a super spreader so…" He then coughed in the direction of the three officers.
Fifty-eight-year-old Christopher McKendrick from Swarkestone was arrested and later charged with common assault, possession of an offensive weapon in a public place, assault by beating of an emergency worker and using threatening, abusive, insulting words or behaviour to cause harassment, alarm or distress.
McKendrick pleaded guilty to the offences at Southern Derbyshire Magistrates' Court on Friday (April 3) and was jailed for 16 weeks and ordered to pay a victim surcharge of £122.
Inspector Chris Thornhill, who is in charge of policing in South Derbyshire, said: "I am pleased that the courts have taken swift and decisive action in this case; my officers are on the front line and are putting themselves at risk to protect others.
"They spoke to the arrested man to get information that would help protect them and others and did not deserve the response they got from him."
In Northumbria, two men who claimed to have coronavirus and coughed and spat at police officers have also been jailed.
Northumbria Police Chief Superintendent Neil Hutchison condemned their actions as "despicable assaults".
The first incident happened on Friday evening (April 3) when officers attended a hotel in Whitley Bay to respond to a report of damage to a window.
Daniel Taylor was identified as a suspect and taken into custody where he continued to be aggressive and verbally abusive to officers and staff. It was in the police cells that the 34-year-old then claimed to have coronavirus before coughing in the face of a custody sergeant.
In a separate incident on Saturday evening, officers had been on foot patrol in Gateshead town centre when they found Marc Punton shouting in the street.
They asked him what he was doing out the house before he told them he was on his way to visit his ill mother. But when officers told him that he could be putting her at risk by making the journey he became verbally abusive.
He was arrested for being drunk and disorderly but then began to cough and spit at one of the arresting officers while claiming to have coronavirus.
Both men were charged with assault of an emergency worker and pleaded guilty when they appeared at Bedlington Magistrates' Court on Monday (April 6).
Punton, of Gateshead, was jailed for 36 weeks while Taylor, of Whitley Bay, was jailed for 26 weeks. Taylor was also ordered to pay £122 in compensation and Punton was ordered to pay £250.
Neither man tested positive for coronavirus and both admitted they had made it up.
Chief Supt Hutchison said the custodial sentences should act as a "stern warning".
"These are despicable assaults that can cause a great deal of distress," he added.
"The officers, staff and volunteers who proudly pull on their Northumbria Police uniform every day do it because they want to keep people safe and this type of behaviour is completely unacceptable.
"I hope the custodial sentences handed down by the judge underline how seriously offences of this nature are taken by the criminal justice system.
"We will make sure our officers continue to receive the support they need while protecting the communities we serve."
Chief Supt Hutchison thanked the "overwhelming majority" of the public "who continue to support all of the emergency services during these unprecedented times".
On the Isle of Wight, a man who repeatedly coughed at four police officers and told them he would infect them with Covid-19 was jailed for six months on Tuesday (April 7).
Isle of Wight Magistrates' Court heard that Riko Baber also spat in the cell of a police van, requiring it to be removed from service and specially cleaned.
Hampshire Constabulary officers had attended a disturbance at an address in Manor Crescent, Newport, just after 5pm on Monday (April 6) when they arrested 30-year-old Baber.
Having placed him in the back of a police van, he began spitting in the cell.
On arrival at custody, Baber then started coughing at officers as they tried to remove him from the vehicle. In total, he coughed numerous times at four officers, also kicking two of them.
Baber, of no fixed address, pleaded guilty to three counts of common assault of an emergency worker, one of assault by beating of an emergency worker, using threatening or abusive words or behaviour and criminal damage.
He also pleaded guilty to criminal damage and also using threatening or abusive words or language in relation to an incident on March 26, when he forced entry to a surgery in Ventnor and was aggressive to staff members who were trying to assist patients on the phone.
Assistant Chief Constable Scott Chilton said: "We are in the midst of a national health emergency and my officers are doing everything they can to limit the spread of infection, protect their NHS colleagues and help save lives.
"It is completely unacceptable that people are using this virus as a weapon in these extremely challenging times. Not only is this vile behaviour, but it causes a huge personal impact on those officers and their families too.
"This sentence should serve as a warning to anyone who thinks it is acceptable to cough and spit at police officers, or anyone else responding to this crisis. You will be arrested and you will face the consequences of your actions."