Man arrested on suspicion of importing explosives
A National Crime Agency (NCA) operation has resulted in the confiscation of five handguns and three hand grenades.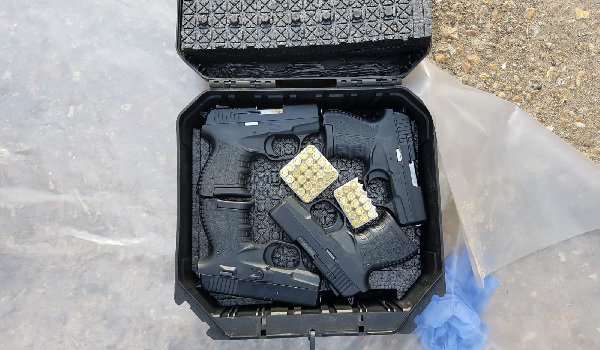 The weapons and ammunition were discovered inside two cases at the bottom of a lorry, attached using magnets, in Billinghurst, Sussex.
A man in his 40s who was at the wheel of the vehicle has been arrested on suspicion of the importation of firearms and explosives.
Supported by armed colleagues from Sussex Police, NCA officers searched a lorry in Rosier Business Park at around 12pm on Thursday (May 17).
After an initial inspection, two plastic cases were found stuck to the bottom of the lorry, prompting officers to call in an Army Explosive Ordinance Disposal (EOD) team.
A 100-metre cordon was set up around the vehicle and EOD officers safely opened the cases, discovering inside five handguns three hand grenades, as well as several dozen rounds of ammunition.
The lorry driver is being questioned by NCA officers.
NCA Branch Commander David Norris said: "This was a significant seizure of weaponry which, in criminal hands, could have caused untold damage.
"Criminal gangs use these types of weapons to bring fear and violence to our streets. We're committed to doing all we can to stop them, and in seizing these deadly items we have made the public safer.
"I'd like to pay tribute to our colleagues from Sussex Police and the army who played such a crucial role in today's operation. I'd also like to thank businesses in the vicinity of the Rosier Business Park for their patience in the face of considerable disruption.
"NCA officers remain on the scene and we expect them to be there much of the night. Our investigation into the source and end destination for these weapons continues."