Man arrested after police car rammed
A 31-year-old man has been arrested after two officers escaped serious injury during an incident in Derry/Londonderry on Friday night (January 13) in which a police vehicle was rammed.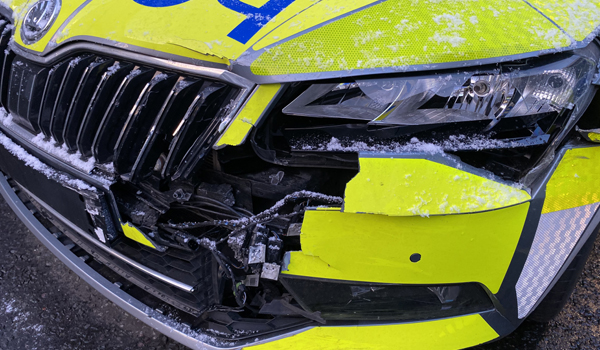 The Police Service of Northern Ireland (PSNI) said shortly before 9.10pm, officers stopped a maroon-coloured  Volvo S60 at the junction of Buncrana Road and Upper Galliagh Road.
One officer got out of the car to speak with the driver but, as he approached the Volvo, the driver reversed at speed, narrowly missing the officer and another parked vehicle.
"The suspect drove directly at the officer, forcing him to jump out of the way to avoid being hit. He then rammed the police vehicle, with the other officer still inside, before fleeing the scene in the direction of Whitehouse Road," said the PSNI.
The man was arrested on suspicion of two counts of attempting to cause grievous bodily injury by dangerous driving, driving a motor vehicle without insurance, driving while disqualified, and failing to stop, report and remain where an accident has occurred causing injury. The PSNI said he remains in custody at this time and is appealing to the public for information about the movements of the vehicle involved and its whereabouts.
Inspector Ryan Robb said: "Our officers sustained neck and arm pain as a result of this despicable incident, and we are fortunate we're not dealing with more serious injuries. The officers were also left shaken by what happened.
"Our officers work tirelessly to keep people safe. Attacks like these are unacceptable. Not only were the lives of two of our officers put at risk, there was also potential for serious harm for others in the area at the time.
"Additionally, our vehicle will be off the road for several weeks for repairs, which means we have one less car at our disposal to respond to incidents and help people when they call us."
Insp Robb added: "As inquiries continue, we're keen to hear from anyone who believes they saw the vehicle involved to get in touch with us which, as a result of the incident, sustained substantial damage to its rear passenger side.
"In particular, we want to hear from anyone with dashcam who may have captured the vehicle being driven on Skeoge Road, Buncrana Road and Upper Galliagh Road prior to, and after this incident.
"We believe the vehicle also have been driven into County Donegal at some point after the incident and yesterday afternoon. Again, anyone with information about its movements or whereabouts is asked to call us."