Majority of Brits unprepared for emergency events
Two thirds of UK adults admit they are totally unprepared to deal with emergency events such as floods or terror attacks, even though more than a quarter believe they are likely to experience such an event, according to new research from the British Red Cross.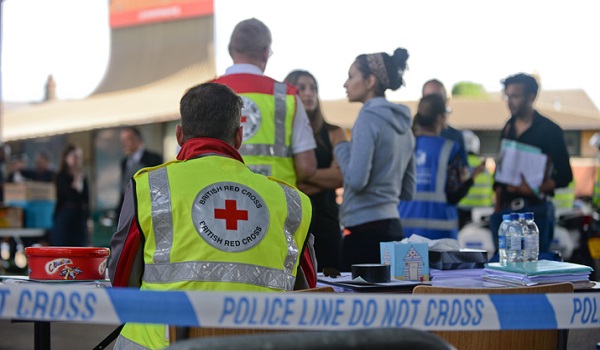 The report, Ready for anything: Putting people at the heart of emergency response, found that individuals and communities can respond very differently, so the support they are given to plan, cope and recover from an emergency should reflect that diversity. 
National Police Chiefs' Council lead for civil contingencies, Deputy Chief Constable Paul Netherton, said: "Every emergency, whether a house fire, flooding or a terrorist attack is different and those affected will have differing needs which are best addressed through a joined up approach involving the emergency services and their partners, including the voluntary sector. 
"The police work closely across these sectors to ensure multi-agency response plans involve all the right stakeholders and we welcome this research from the British Red Cross which underlines the value of greater cooperation to deliver support to the public when it is needed the most." 
Drawing on a survey of 5,000 UK adults, and insights from those with direct experience of major incidents and emergencies, the report found 42 per cent of UK adults would want support finding family members they had become separated from following a bomb threat or terror attack. However, more younger people say they would want emotional support than older people – 26 per cent of those aged 18 to24 compared with 14 per cent of those over 65. 
It also found that providing cash for people to buy what they need in an emergency, rather than assuming what they need, was often more culturally appropriate and desired. It gives people dignity and allows them to make decisions about their own recovery. 
A quarter of people also wrongly believe that firefighters and the police routinely monitor social media for people needing help, or that posting on social media is a good way to alert emergency services. 
The British Red Cross head of crisis response, Simon Lewis, said: "Major emergencies in the UK are thankfully rare and it's important to stress the majority of people won't be caught up in one. But, whether it's a flood, fire, power or water outage or other alert, this report builds on our knowledge of how to respond and support people's recovery best. One size doesn't fit all, and planning together and listening to people's needs locally can both reassure and empower communities to withstand incidents in future." 
The British Red Cross responds to an emergency in the UK approximately every four hours. The charity and its volunteers carry out first aid, run rest centres and provide safe spaces where they offer emotional and practical support. Every year, it helps around half a million people in the UK to prepare for, respond to and recover from a crisis. It believes greater collaboration between different agencies and charities, as well as sharing local knowledge and insights, will help meet the wide range of individual needs in a crisis. 
Naomi Phillips, director of policy and advocacy at the British Red Cross, added: "When an emergency hits a community, it can tear at its very fabric. If people are prepared, they can withstand the impact of shocks and recover over time. And, while a community takes time to heal, people should feel empowered, supported and confident in their own and their institutions' ability to respond. 
"Closer collaboration between central and local government, emergency services and voluntary sector organisations could help ensure people are as far as possible 'ready for anything' and that their needs are met if the worst does happen. 
"Our report offers powerful insights into what people require after an emergency, whether a major event or the need to evacuate their home for a fire or flood, something that could happen to anyone. We're inviting emergency responders across all sectors to work together and share our learnings."