Lush suspends 'offensive' campaign to protect staff
High street retailer Lush has suspended its #Spycops campaign and has taken down shop window displays showing fake police tape reading "police have crossed the line" after pressure from policing and politicians.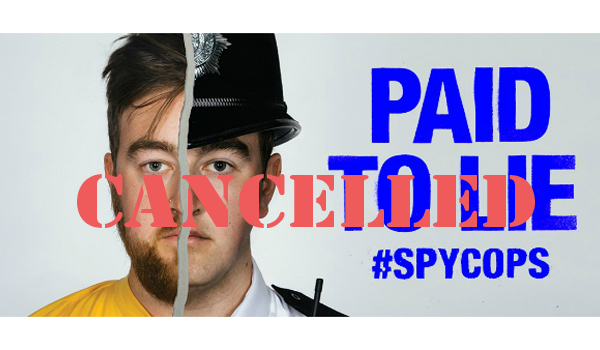 The retail chain was widely condemned, particularly by officers from all ranks in the service and senior politicians, for confusing a political campaign with an attack on policing in general.
The company claimed its marketing stunt was intended to draw attention to the activities of undercover officers in the Special Demonstration Squad (SDS) and insisted it is not "anti-police".
A small number of shops had removed the display after complaints had been made in the stores.
But on Friday (June 8), the company issued a one-line statement saying: "For the safety of our staff we have suspended the window."
Asked to clarify its position, it said the overall campaign had been suspended but material had not yet been removed from its website.
Home Secretary Sajid Javid and Policing and Fire Minister Nick Hurd criticised the initiative as "badly misjudged".
Shadow Policing Minister Louise Haigh said it was "offensive".
However, the campaign was defended by victims of the undercover policing scandal, lawyers and some MPs including Shadow Chancellor John McDonnell, who claimed it is helping push for reform so such controversial tactics cannot be used again.
Seventy-four former subjects of undercover investigations signed an open letter thanking Lush for raising the issue of SDS activities.
The campaign provoked a huge backlash from the police service and many members of the public who said they were disposing of or returning any Lush products, using the hashtag #FlushLush.
Calum Macleod, chair of the Police Federation of England and Wales, said: "I am glad that the management at Lush have come to their senses and finally retracted the highly offensive and insulting materials from window displays up and down the country.
"Let us be clear where there is wrong doing it should of course be properly investigated and any victims should be supported. However, the materials plastered in their shop windows for all to see offered no explanation and simply targeted police as a whole as 'spies and liars'.
"I am disappointed that Lush haven't had the decency to admit that their campaign was poorly executed and with it issued a public apology to officers up and down the country who they have offended.
"I would like to extend my thanks again to the public for the overwhelming support they have shown and to our incredible police service who work tirelessly day in day out to keep the public safe."
And despite acknowledging the harm some SDS deployments caused to victims, Sara Thornton, chair of the National Police Chiefs' Council, added: "This campaign from Lush UK is both insulting and damaging to the tens of thousands of officers who place themselves in harm's way to protect the public on a daily basis, and who have nothing at all to do with the undercover inquiry."
As part of the campaign, launched on June 1, Lush decorated storefronts with slogans including "police spies out of lives", "spied on for taking a stand" and an image of an officer's face featuring the words "paid to lie".
Staff associations from across the country wrote an open letter to the Advertising Standards Authority (ASA) asking them to take action against Lush.
However, the ASA concluded that the materials were not paid for advertising and were not directly connected to Lush products, so do not fall within the definition of 'advertising' required for it to launch an investigation.
Meanwhile, Dorset PCC Martyn Underhill was forced to comment on the issue after receiving donations from the company for both his election victories. He defended the campaign, pointing out that it is not "about policing in general".
"This campaign centres around the actions of a very specific unit of undercover officers based in London, the Special Demonstration Squad (SDS) who are subject to a public inquiry about their actions in infiltrating groups of animal rights campaigners and effectively 'setting up home' with some of the activists who were women," he said.
Mr Underhill also claimed the undercover deployments were "disproportionate and distasteful".
However, he acknowledged the public condemnation of a campaign that appears to be anti-police.
Mr Underhill received donations from Lush owner Mark Constantine during his PCC election campaign, but stated "nothing was offered or exchanged, then or now, for those donations".
Shortly after the initial backlash, a spokesperson for Lush said: "This is not an anti-state/anti-police campaign. We are aware that the police forces are doing an increasingly difficult and dangerous job whilst having their funding slashed.
"We fully support them in having proper police numbers, correctly funded to fight crime, violence and to be there to serve the public at our times of need.
"This campaign is not about the real police work done by those front line officers who support the public every day – it is about a controversial branch of political undercover policing that ran for many years before being exposed.
"Our campaign is to highlight this small and secretive subset of undercover policing that undermines and threatens the very idea of democracy. There is an age old understanding that our government and public institutions are there to protect and preserve the rights and safety of the public.
"In the case of these secretive undercover units, their work went well beyond the boundaries of acceptable police tactics and is now the subject of an ongoing public inquiry, which was instigated by Theresa May during her time as Home Secretary when the scale and scope of the breaches of protocol became clear."