London Mayor unveils new strategy to keep women and girls safe
The Mayor of London has unveiled a new £18 million funding package aimed at combatting the "scourge" of violence against women and girls in the city.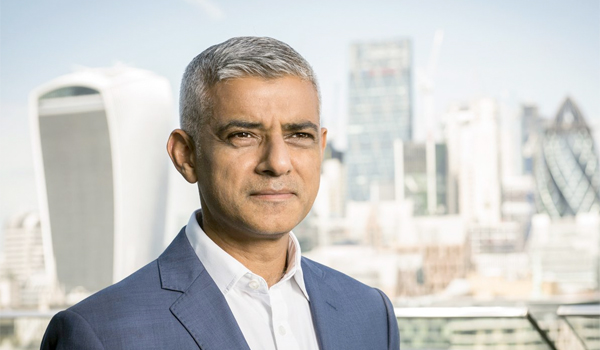 During a visit to Waltham Forest in northeast London, Sadiq Khan announced the Violence Against Women and Girls (VAWG) Strategy which uses public health and education to implement the initiative.
The new strategy will:
Place a stronger emphasis on partnership working, prevention and education across a wide range of services in London;
Target the behaviour of those who perpetrate abuse and make sure they are the focus for change;
Invest an additional £17.7 million in support services – including a specialised response to support all victims to have equal access to justice and services;
Recognise that violence against women and girls often starts with words, and we all have a responsibility to challenge the behaviour that can lead to violence and women feeling unsafe; and
Take action to rebuild trust and confidence in the police and criminal justice system to ensure victims are supported and empowered to get the justice they deserve
Mr Khan said: "In my manifesto for re-election I pledged to do everything in my power to keep the women and girls in our city safe. I recognised that the approach we had taken on for so long – which focused on support for victims but not the behaviour of offenders – urgently needed to be reviewed.
"That's why I'm proud to present my refreshed strategy for tackling violence against women and girls which adopts a public health approach to ending the scourge of VAWG on our capital.
"The epidemic of violence is a crisis which should shame us all which is why I'm uniting with partners across London to not only provide support to women and girls but to help educate and inform all Londoners, especially men, about the danger posed by misogynistic attitudes and behaviours.
"As well as record investment in services for victims and survivors, I am also funding initiatives which address the behaviour of those at risk of offending or reoffending to help prevent them turning to violence.
"Change will not happen overnight but I believe that together we can help to stop the men who wish to do women harm and drive forward a lasting change in our society's culture so that women and girls can finally live their lives free from fear, harassment or abuse."
Assistant Commissioner Louisa Rolfe, who leads on the Metropolitan Police Service's response to violence against women and girls, said: "I'm grateful for the support of the mayor and MOPAC as we improve the Met's response to violence against women and girls (VAWG). This is a huge priority for us. We have set out our own ambitious plans to rebuild trust and to tackle VAWG. The mayor's plan will help ensure our improvement activity is subject to rigorous scrutiny but also actively supported.
"I'm pleased to see the mayor's broad focus across health, education, housing, social care and the wider justice system to ensure other agencies actively support this work. City Hall has a crucial role in commissioning victim services and we will be working together, alongside other partners, to make sure victims receive the best support."
Martin Griffiths, Clinical Director for Violence Reduction Network NHS London and Consultant Trauma and Vascular Surgeon at Barts Health NHS Trust said: "The Mayoral VAWG strategy marks a step change in the understanding and prevention of violence against women and girls in London. The NHS in London is an agent for change, playing a key role in the commissioning of Sexual Assault Referral Services, and services for victims of stalking. Working in partnership to support a public health approach the NHS will ensure that the obligation to build a fairer society for women and girls sits with us all."
Andrea Simon, Director of the End Violence Against Women Coalition: "We welcome the new strategy, which we hope will see commitments translated into action that makes a tangible difference in women and girls' lives.
"Violence against women is not inevitable and we're particularly pleased to see the Mayor commit to adopting the principles of the Istanbul Convention, which puts prevention at the heart of all work to end male violence against women. Preventing women and girls from becoming victims in the first place will always be the best way to address this abuse, which is why we welcome long term attention to work with young people in schools and to shifting public attitudes and behaviour through communications work like the Have a word campaign.
"We also welcome the strategy's commitment to ensuring all victims' rights and needs are met, including migrant women, where more needs to be done to ensure safe reporting pathways for victims and survivors to report abuse without fear of being detained or removed from the UK.
"Demand for specialist women's services in London has massively increased as a result of the Covid pandemic and will be significantly impacted by the cost of living crisis. It is therefore vital that this strategy provides sustainable funding for the lifesaving specialist services women rely on, including those run by and for Black and minoritised women, Deaf and disabled and other marginalised survivors of violence and abuse."