London Bridge attackers lawfully killed
A jury has concluded that the London Bridge terrorists who killed eight people and injured 48 others were lawfully shot dead by police.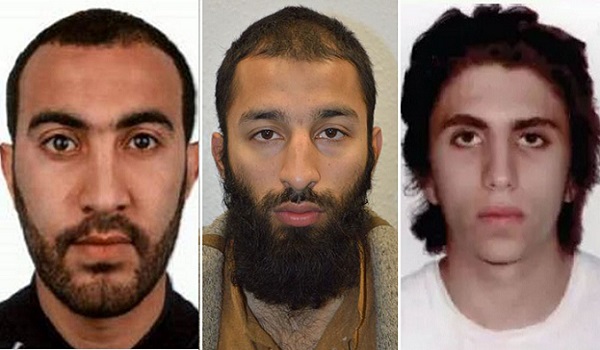 Khuram Butt, 27, Rachid Redouane, 30, and Youssef Zaghba, 22, used a van to drive at pedestrians on the bridge before stabbing members of the public in Borough Market. The three were armed with ceramic knives and had fake suicide belts strapped around their waists during the attack on the evening of June 3, 2017.
The rampage was brought to an end after less than ten minutes when the attackers were confronted by three armed police officers in Stoney Street. The Old Bailey heard that the officers shouting warnings then opened fire as Butt, Redouane and Zaghba came towards them.
One man in the nearby Wheatsheaf pub was hit by a stray round fired by the officers but survived.
Fearing Butt and Redouane could still detonate explosive devices as they lay injured, the officers shot at them again while they were on the ground.
A bomb disposal expert told the court he only realised the suicide belts were fake after he cut them off the dead bodies and examined them more closely.
Jurors deliberated for three-and-a-half hours to conclude that all three attackers were lawfully killed by police after they "ignored clear warning shouts".
Chief coroner Mark Lucraft QC had directed them that was the only "safe" conclusion in the circumstances.
He praised the actions of the armed officers and said nothing less than "lethal force" had been appropriate. He told jurors: "You may well agree they acted with courage and they only used such force as was necessary."
MPS Commissioner Cressida Dick said: "I welcome today's verdicts that the armed officers who confronted and shot the three attackers, acted lawfully. I want to pay tribute to the tremendous courage and professionalism they showed that night. Faced with an appalling and confused scene they acted calmly, quickly, decisively and in accordance with their training.
"There is no greater responsibility for an officer than having to make the split-second decision whether or not to use lethal force. Firearms officers are deployed on our streets every day. They frequently confront dangerous people, sometimes armed with knives and other weapons. Every day they respond highly effectively, with professionalism, teamwork, courage and restraint – rarely drawing their weapons, and even more rarely firing them.
On June 3, 2017, the firearms officers of the City of London Police and Metropolitan Police saved lives. All the officers involved from the three police services of London – both armed and unarmed – should take great pride that, in the face of the most extreme danger, they quickly stopped the three criminals from continuing their murderous attack.
"These dreadful events showed us the very worst of humanity, but they also showed us the very best as well. What stood out during these inquests, head and shoulders above all else, were the accounts of tremendous bravery and compassion by the public and emergency services alike. The response that night, under the most extreme and chaotic of circumstances, was quite simply extraordinary."