Lockdown arrest video 'stage-managed' by protestors
A viral video apparently showing a woman being handcuffed and taken into custody for breaching lockdown regulations by sitting on a bench was "staged-managed" by protestors, Dorset Police has said.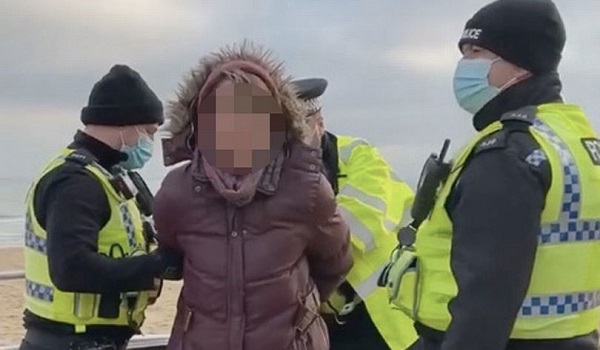 The footage was posted online on Saturday (January 9) following an anti-lockdown demonstration in Bournemouth. One woman is seen shouting: "I was sitting on a bench" while the person filming the incident tells the four officers involved that they are "breaking their own laws".
Dorset Police Assistant Chief Constable Mark Callaghan said the video did not fully reflect the nature of the incident. He said: "The public have the right to film officers in a public place as long as it is not for a criminal purpose. If they choose to share their video with the wider public, we would ask that this is done so within the full context.
" We believe this video was planned, stage-managed and recorded by members of the protest group who turned up in multiple areas, several of whom refused to engage or provide their details. If people refuse to give their details in such circumstances then it leaves officers with little option, but to arrest until the details are established. Our officers would only arrest as a last resort.
"At the earliest opportunity, officers made repeated attempts to engage with the organisers to request that they did not go ahead with the planned protest, but this was unsuccessful. Liaison with the organisers throughout the week led to the individuals changing their approach on the day. It was clear that the group were deliberately organising their activities, walking around in twos and then trying to come together in a 'flash mob' style approach, as they have done previously. This activity went on for a couple of hours.
"Officers attended the town centre to disrupt the protest and disperse the groups. Throughout the afternoon officers gathered evidence on people who had attended the protest and were persistently staying within the area for a prolonged period of time. Those people, including those who were arrested, had earlier engagement and were warned by officers. We are further astonished by the fact that a number of the group were identified to have travelled considerably from out of the Dorset area."
"The three people were arrested under S24 PACE as they failed to provide their names and address in order for the officers to issue them with fixed penalty notices for breaches of the Covid-19 regulation, which is an offence under The Health Protection (Coronavirus, Restrictions) (All tiers) (England) Regulations 2020. Two of the arrested people later supplied their details at police custody and were subsequently de-arrested and issued fixed penalty notices. The third person's details were eventually verified in custody, he was issued with a fixed penalty notice and released from custody.
"At least seven fixed penalty notices were issued to individuals for breaching the coronavirus regulations. In addition to this, more than 10 section 35 dispersal orders were issued. There is no clear exemption for people to leave home to protest. Everyone has a social responsibility to follow the strict Covid-19 lockdown restrictions that are currently in place in order to help keep people safe and save lives.
"Our officers have acted with professionalism, integrity and restraint in difficult circumstances and they have repeatedly tried to engage with those breaching the regulations, before choosing to take enforcement action. This activity was recorded on video for evidential purposes and provides further reassurance to senior officers and the police and crime commissioner that the actions of our officers were proportionate, justified and correct, not to forget these officers have placed themselves potentially in harm's way to ensure other law-abiding members of the public are protected from those who continue to ignore the regulations."
A separate anti-lockdown protest took place in South London on the same day. The Metropolitan Police Service said a total of 16 arrests were made.