Lockdown announcement introduces new dilemma into British policing
Chief constables across the country are holding a series of urgent meetings this evening (March 23) to work out how to implement the new measures announced by the Prime Minister as part of the Government's response to the coronavirus pandemic.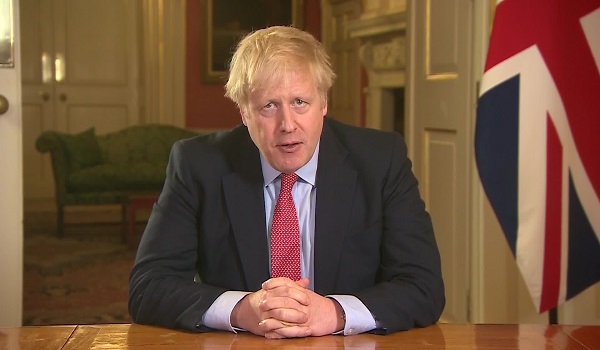 In a move that takes the UK into what is in effect a total lockdown, Boris Johnson announced that from midnight, people will only be able to leave their homes to shop for basic necessities, to take part in one form of exercise, to attend to medical needs or care for vulnerable persons, or to travel to or from work if their activities are deemed to be absolutely necessary.
The Government has also ordered all shops selling non-essential goods,​ including clothing and electronic stores, and other premises such as libraries, playgrounds and outdoor gyms, and places of worship to close. The new measures mean public gatherings of more than two people are also outlawed and that all social events including weddings, baptisms and other ceremonies, but excluding funerals, can no longer take place.
The decision to introduce the type of draconian measures seen elsewhere in Europe came after commuters packed onto trains on Monday, and sun-seekers crowded into parks over the weekend.
Mr Johnson said: "If you don't follow the rules the police will have the powers to enforce them, including through fines and dispersing gatherings."
As of yet, the police do not have such powers as they will only come into law with the passing of the emergency coronavirus legislation, which is still being debated in Parliament and would mark a departure from the notion of policing by consent, which has been a foundation of British policing.
These concerns were highlighted by the national chair of the Police Federation of England and Wales John Apter, who called for public support.
"The practicalities of policing this lockdown will be challenging," he said. "Policing will do all it can to keep the public safe, but we need the public to support us.
"I ask that the public heed the advice and stay at home unless absolutely necessary. This will allow police officers to concentrate on keeping the streets safe and deal with all the regular calls we receive."
Despite concerns over its implementation, Martin Hewitt, chair of the National Police Chiefs' Council, supported the move. He said: "Measures to ensure social distancing have so far not had the necessary effect. These new measures are sensible, based on scientific evidence and give people clarity on the exact steps they must take to stop the rapid transmission of this disease.
"The majority of people are already making real sacrifices to save lives and we urge everyone to follow the advice that is designed to keep us all safe. We are working with the government and other agencies to consider how these new rules can be most effectively enforced."
However, Mr Johnson did not make it clear how the police are expected to determine whether a person is complying with the rules as it would be easy for someone to claim they are getting some exercise while making multiple trips to the shops.
The measures are to be in place for a minimum of three weeks, after which they will be reviewed, but sources within policing said there was concern about devoting resources to enforcing the restrictions during a period when available police manpower could fall by as much as 40 per cent due to officers self-isolating as a result of the pandemic.
Shortly after the new measures were announced, Humberside Police Chief Constable Lee Freeman tweeted that he would be meeting with colleagues from the force to "agree how we deal with the new directions".
In a statement on the force website, South Yorkshire Police Chief Constable Stephen Watson said: "We are all now being enlisted, not to fight in a war, but to play a very small but crucial role in the fight against Covid-19. Whilst we may face unprecedented times, it does not require great bravery and courage. All that is required of you is to stay at home and to cherish some time with those closest to you. In doing so, we are protecting the vulnerable and the elderly, many of whom have given more than this to protect us.
"I fully anticipate the public of South Yorkshire will want to adhere to these restrictions, many already are. However where we find people are not willing to comply, we will move to enforcement once we understand the detail of the legislation as it becomes available to us. This will be a last, but in some cases necessary, resort."
Asked whether he had drawn up plans to deal with a potential increase in public order offences in the light of the lockdown, Northamptonshire Police Chief Constable Nick Adderly said his force was: "looking at every option to reduce this, before it happens, and enforcement options if it does. We are monitoring crime trends and patterns, almost hourly, to ensure effective safeguarding and intervention.."
Police Scotland says it will be increasing patrols to enforce the coronavirus 'lockdown'. The Scottish government confirmed that officers would be permitted to deploy "soft enforcement" of the new measures announced on Monday (March 23).
Chief Constable Iain Livingstone said: "We are fully behind the new measures announced by the UK and Scottish governments to increase social distancing, and I urge and expect everyone to comply with them.
"We are aware of the proposed legislation in relation to coronavirus and are carefully considering the implications in this very fast moving situation, which presents the gravest of threats to the nation.
"In the meantime, Police Scotland has a clear, positive duty to both protect life and improve the safety and wellbeing of people across Scotland, while supporting the government and health agencies in our fight against this pandemic."
Home Secretary Priti Patel said: "I know that the coming weeks will be testing for our frontline police officers. I will do everything I can to ensure that they have the resources they need to keep themselves and the public safe."
In the hours immediately following the announcement several forces reported a dramatic increase in calls from members of the public seeking information on what actions are permitted in the light of the lockdown.
Surrey Police took to social media to say: "Please can we ask that you stop contacting us requesting advice immediately; we do not have any further information than yourselves and cannot provide you with any more information than what has been issued by our government."
Northamptonshire Police Chief Constable Nick Adderley issued a tweet stating: "Please do not cripple our phone lines with enquiries as to what you can and cannot do during the conditions imposed by the Prime Minister this evening. Visit the http://covid.gov.uk web site but if in any doubt, stay indoors and stay away from loved ones.
"As soon as we have further clarity on permitted movements, we will upload a specific page on our web site. Remember, whilst this is all going on, @NorthantsPolice still has to deal with 999's and other urgent calls so please keep our lines free for those in genuine need."