Link between officer numbers and knife crime debate intensifies
Senior officers claim there is a connection between police officer numbers and a rise in violence but analysis supports the Prime Minister's assertion that the correlation is weak.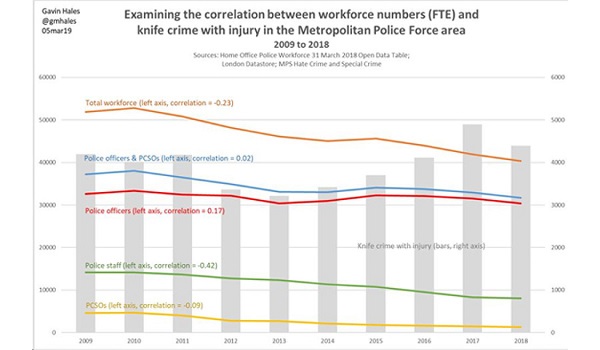 The Metropolitan Police Service Commissioner Cressida Dick contradicted the Prime Minister on Monday by saying there was a link between the size of the police workforce and a rise in violent offences. Theresa May had earlier said there was no direct correlation. 
Now analysis by Gavin Hales, former Police Foundation deputy director and Visiting Senior Research Fellow at the Institute for Criminal Policy Research, has shown that any link is weak. 
"At least in the case of the Met, there is no real correlation between officer numbers and knife crime with injury over the period since 2009," he said. "That is because officer numbers were high when knife crime was high in the late-2000s, and are now much lower when knife crime has again risen."  
Mr Hales said the fall in between, especially from 2011 to 2012, seems likely to be partly accounted for by a post-2011 riots effect, with large numbers either convicted or at risk of arrest.  
However, he said other austerity measures are likely to have played a part. 
"The rise in knife crime with injury in recent years seems likely to have a number of causes, including well-documented cuts to constructive activities for young people, such as youth club closures, as well as factors like changing drugs markets, reflecting apparent increases in the supply of cocaine and the growth of county lines type models.  
"To my mind, then, cuts to the police workforce are very likely a factor in rises in knife crime, but certainly not the cause." 
On Monday (March 4), Theresa May said there was "no direct correlation between certain crimes and police numbers". 
She said: "What matters is how we ensure that police are responding to these criminal acts when they take place, that people are brought to justice. 
"But what also matters is, as a government, that we look at the issues which underpin, that underlie, this use of knives and that we act on those." 
On Tuesday, Ms Dick said "there is some link between violent crime on the streets obviously and police numbers, of course there is and everybody would see that". 
"But I think that what we all agree on is that in the last few years police officer numbers have gone down a lot, there's been a lot of other cuts in public services, there has been more demand for policing and therefore there must be [more resources] and I have consistently said that," Ms Dick added. 
Nazir Afzal, the former chief prosecutor for the northwest, whose 17-year-old nephew was recently stabbed to death in Birmingham, criticised Mrs May. 
"I am aghast at what the prime minister had to say about police numbers – that there is no correlation between the number of police and the amount of crime. Of course there is, otherwise why would we have police at all." 
Mr Hales' analysis shows the correlation is weak but he believes a larger police workforce could help reverse increases in knife crime. 
"Given everything we know about rising demand and the pressures officers are under at the moment, and especially the collapse of neighbourhood policing, that seems unarguable to me."